Considering a move and want a place that is family-friendly? Look no further! There are plenty of reasons to love and appreciate the Summerhill communities in Los Gatos. What with its plethora of parks, the gorgeous Santa Cruz mountain range, and fabulous hiking spots, you have easy access to nature and wildlife in Los Gatos! If that's not enough, there are an exciting variety of restaurants to choose from, fun things to do with family and friends, and wineries where you can sip a glass of wine and bask in the sunshine. Given its charming small-town feel, fantastic weather, and absolutely breathtaking scenery, you're likely to instantly fall in love with this place. Located only 60 miles from San Francisco, these Summerhill communities in Los Gatos are ideal for making cherished memories this summer. So whether you are just stopping by during your family vacation or moving here to explore new opportunities, rest assured you won't be disappointed!
1. Vasona Lake County Park
The beautiful 152-acre Vasona Lake County Park and the Los Gatos Creek Parkway are a must-see for visitors and newcomers alike. On its 45-acre carefully maintained lawn, guests can play a rousing game of frisbee, softball, or soccer. If you want to share an alfresco meal with your family, pack your picnic basket and choose from one of the many picnic tables scattered throughout the park. Whether you are planning a delicious feast or just a short visit, bring some snacks to munch on as you explore the park. There are lots of hiking trails, quiet places for relaxation and contemplation, and a lake where you and the kids can fish. Or how about trying something different with your friends by renting a paddleboat or rowboat to see the sights from the water? Open from 8 a.m. to sunset daily, Vasona Lake County Park promises a day of fun in the great outdoors.
2. Loma Prieta Winery
Calling all lovers of wine! While in the area, make sure you stop by the Loma Prieta Winery, which has the distinction of being the largest producer of Pinotage in the entire United States. Priding itself on making the finest wine possible for its guests' utmost satisfaction, Loma Prieta offers a host of delectable wines. You can sample and savor everything from chardonnay to pinot noir to merlot and much, much more! This incredible winery is open every weekend from noon until 5 p.m. It can also be reserved for special events. With their lovely surroundings, these vineyards and tasting rooms certainly make for a sparkling evening. If you are looking for a winery that is both elegant and innovative, Loma Prieta is a dream come true and the perfect place to create memories this summer.
3. Castle Rock State Park
With its verdant forests that stretch for miles, vibrant green plantlife, and vivid scenery, Castle Rock State Park is an amazing place to spend the day. You can go hiking, horseback riding, backpacking, and rock climbing. With its over 34 miles of trails, visitors can trek through the park while taking in all it has to offer. There is truly no better way to get some fresh air, soak up the warm sunshine, and immerse yourself in nature than coming here. Want to see unique birds in their natural habitats? Hoping for a terrific photo opp of the lush and rugged environment? Then you must absolutely plan your visit to Castle Rock today! Guided tours are now available. You can preregister for this awesome opportunity on the park's website. So what are you waiting for? Let's go on an adventure in the great outdoors!
4. Los Gatos Farmers' Market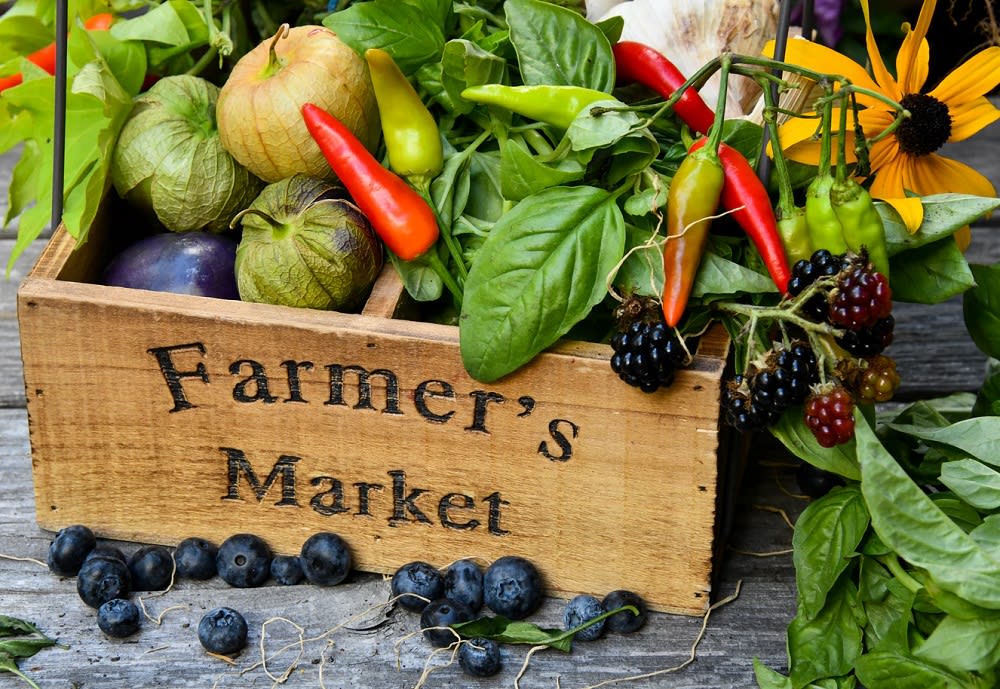 Are you shopping for ingredients to make a yummy breakfast for your sweetie? Want to support local producers and farmers in the area and see what goods they have? Then come to the certified Farmers' Market. Located downtown at the Town Park Plaza, this market provides a fresh and diverse selection of seasonal fruits and vegetables throughout the year from over 40 farmers and craftsmen. It is open every Sunday from 9 a.m. to 1 p.m. Stroll through the market with friends or a date with that certain someone while shopping for honey, an assortment of berries, delicious roasted chicken, farm-fresh eggs, and much more! Check ahead for what produce is in season, and don't forget that shopping basket for all your farmers' market needs!
5. Old Town
This wonderful outdoor shopping center, known as Old Town, has a host of unique and exciting shops and boutiques, as well as fantastic restaurants and coffee shops. If you are looking for a fun shopping spree or searching for a place to find that cute summer outfit, you can find that and more at the elegant and peaceful Old Town shopping center. Meander through shops such as Banana Republic, Gap, White House Black Market, and Anthropologie. If you are in the mood for a cup of java, pop into the charming Blue Bottle Coffee, which serves a fine selection of hot, cold, and iced beverages. Whether it's a morning out with friends or shopping to find new outfits for your kids, Old Town is just the place to find the treasures you are seeking!
6. New Museum Los Gatos
On the lookout for an educational, artistic, and creative experience this summer? The New Museum Los Gatos, known simply as NUMU, reopened to the public on May 21, 2021. Discover beautiful expressions of artwork, globally relevant displays, and an array of exhibits and collections about history and culture. With a continually rotating series of new exhibitions, there is always something fascinating to see and experience at NUMU. Trust us—you won't be bored! These collections serve as inspiration and an enlightening glimpse into the local cultural context of the surrounding community. Now is the time to revel in brilliant artwork and observe all that NUMU has on display!
7. YogaSource
Interested in trying yoga for the first time? Or are you an accomplished yogi who wishes to further expand your horizons? Then YogaSource is the place for you! This state-of-the-art studio offers virtual classes and has recently reopened for in-person classes. You can take programs such as Gentle, Flow, Hot, and Cycle. This excellent studio prides itself on creating a safe haven for community members for friendships, refreshment, and inspiration.
8. Oak Meadow Park
Called the '"gem" of parks in the area, Oak Meadow Park is over 12 acres and is conveniently accessible to Vasona Lake County Park and the Los Gatos Creek Trail. During your visit here, you can have a BBQ or a picnic with family and friends, watch your children as they frolic on the playground and jungle gym, and take in the scenery around you. If you are a nature lover, do not miss out on this gorgeous and well-maintained park. Not only is it a prime place for taking pictures and birdwatching, but Oak Meadow Park also provides amazing opportunities for exploration, play, and making memories.
9. Manresa
Are you ready for a dinner of the utmost quality? With a simply mouthwatering menu of food made from the finest and freshest ingredients, Manresa offers an elegant dining experience for all patrons. Savor your satisfying meal with a wine of your choice from their collection. The restaurant is open Wednesday through Sunday and is closed on Monday and Tuesday. Be sure to visit their website to make your reservation today for a special event with your loved ones.
10. Los Gatos Cafe
With locations in both uptown and downtown Los Gatos, Los Gatos Cafe is just the place for a family breakfast on the weekend or meeting up with that friend from college who's passing through the area. You can find delicious menu options, such as omelets, breakfast scrambles, pancakes, and french toast. If you are craving something special or hankering for food of the brunch variety, they've got you covered! This warm, friendly local cafe also concocts an enticing selection of bakery items for your enjoyment. With its welcoming and hospitable atmosphere, guests quickly feel right at home. Made even more convenient and accessible by its online ordering option, this restaurant excels at making guests feel at ease and providing fan-favorite food fare.
If you are ready to explore Los Gatos real estate, contact Susan Ward today. As one of the most sought-after Los Gatos real estate agents, Susan is ready to help you find your dream home.