French Country-style architecture, named for the grand and stately country homes that dot the French countryside of Provence, conveys a sense of timeless luxury without being ostentatious or overly stuffy. The formal symmetry of the windows and the natural stone facade belie a warm, welcoming Old-World charm with a relaxed feel. The distinctive use of natural elements, deliberate lines and soft faded colors creates an elegant and comfortable home. The style successfully marries rustic and refined characteristics.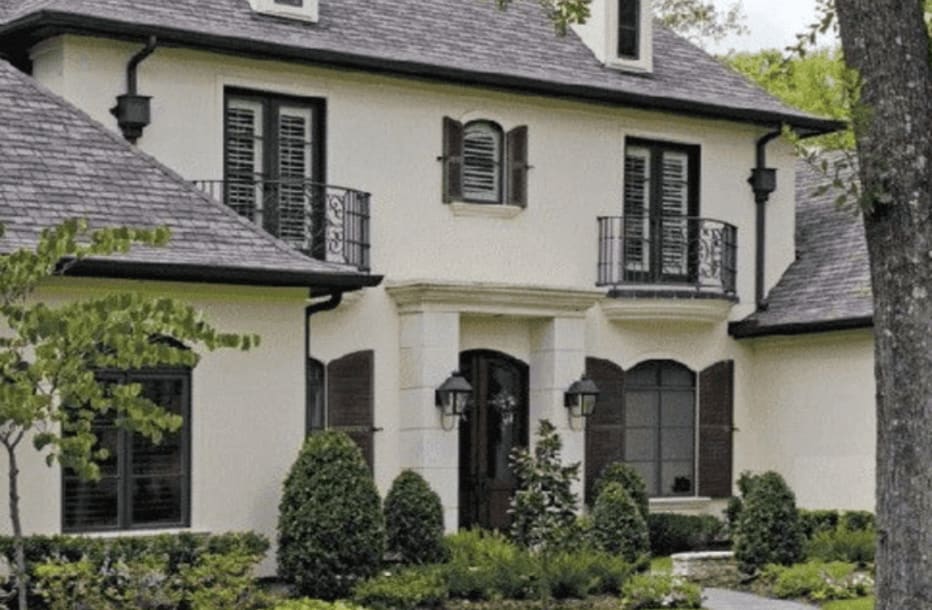 Exterior Architectural Details
Tall, sloping, hipped roof lines featuring barrel-tile roofs, tall rectangular windows, and a natural stone facade denote the exterior of French Country architecture. The windows of the first and second floors align in perfect symmetry and feature either rounded eyebrow arches or wood shutters. Clay tiles encase the roof line in an overlapping fashion with the next row of tiles covering the top of the row below, creating a tiered effect. Chimneys flank either side of the home and appear as mirror images as they peek above the roof line.
Exterior Color Palette
The color palette used on the exterior varies, but always pulls from nature. The exterior finish is either red brick or natural stone and is usually gray or white. The clay roof tiles range from dark reds to warm browns and neutral beige. Any trim work or additional detailing around windows and doors is white stonework. The exterior is rarely if ever painted. The front door may be painted a dark red or a stunning black to stand out against the plain stone facade.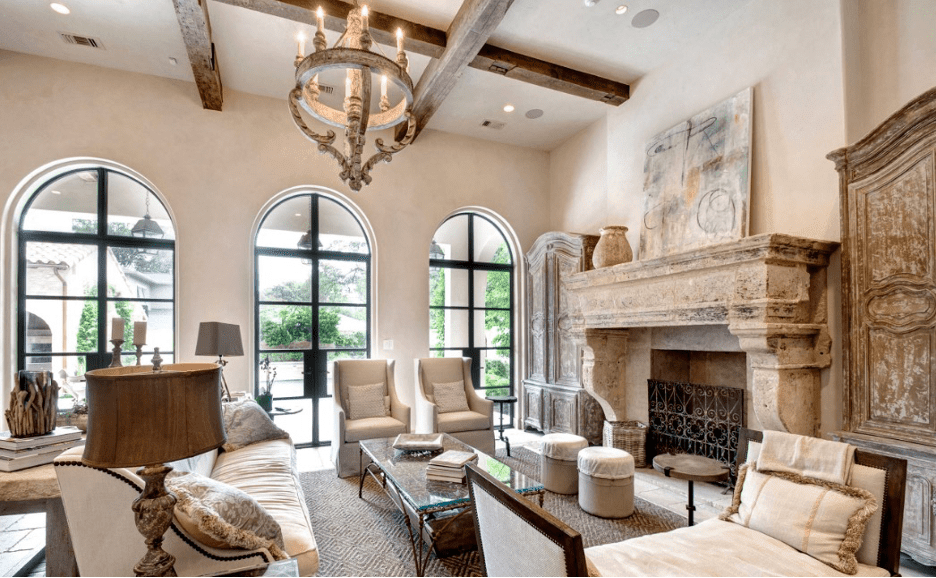 Interior Characteristics
Natural elements are prevalent on the interior as well.

Smooth plaster covers the walls in the French Country home.

Wood floors laid in a decorative parquet pattern add a warm visual appeal.

Limestone tiles offer another flooring option.

Ceilings feature exposed wood beams.

Tall casement windows hand crank open at the center to allow breezes to waft through.

Rooms may feature oversized limestone mantels and fireplaces.

Interior rooms are laid out symmetrically and feature high ceilings.

The foyer, often two stories high, features a sweeping, curved stairway made of stone, creating a stately elegance.


Spanish Architecture
I personally love Spanish style architecture. I respond to the idea of a warm Tuscan home. Most authentic homes I have come across has been unique and well-constructed with lots of character and charm. This type of architecture was born as a result of the Panama-California Exposition, and became a U.S. style movement from 1915 to 1931. It is a hybrid style based on the architecture found during the early Spanish colonization of North and South Americas. It started in California and Florida, which had the ideal climate for Mediterranean-inspired homes and remains popular today. In Spanish Revival architecture, new features were added to classic ones to create a distinct look.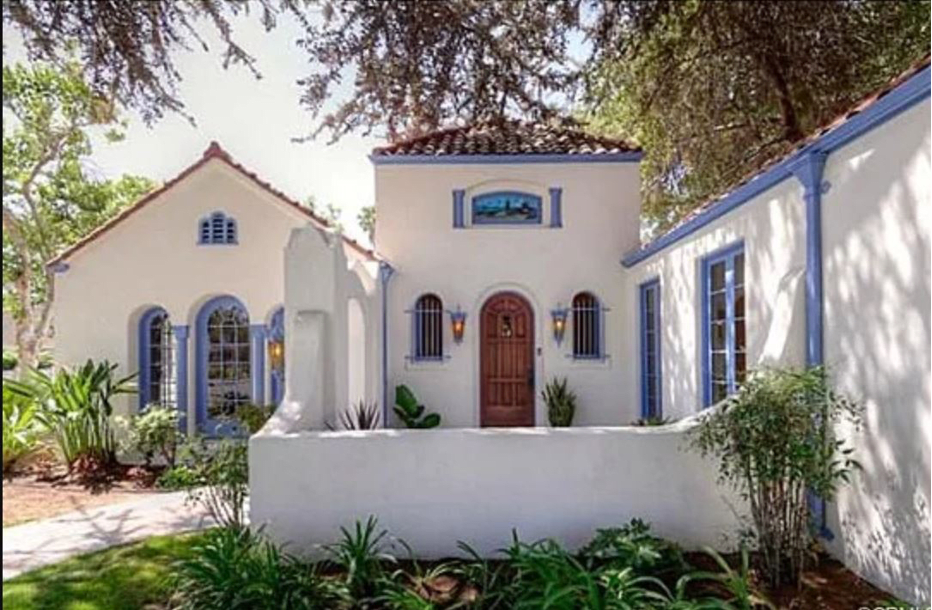 Characteristics of Spanish Architecture
Curves and arches for both windows and doorways.

White stucco exterior and walls. Fresh white paint covers roughly textured stucco — a hand-applied mix of cement, water and sand or lime. The result is an aged-looking Old World surface.

Painted tile. Here, a beautifully curved staircase reveals another classic feature: hand painted on the stair risers.

Tower-like chimneys. No detail is too small. This functional chimney is given special treatment with moldings and little windows.

Balconies. These were designed so that you could step out from your room above to enjoy the fresh air and views.

Ornamental iron work. Artfully crafted wrought iron work graces stair railings, gates, window grilles and lanterns. Here is a closeup of a window grille.

Wooden doors and gates often feature iron details. These lanterns are typical Spanish Revival.

Courtyards and patios. The mild climate of the Mediterranean encouraged outdoor living, so the Spanish created lots of spaces to enjoy outside. The patios often had fireplaces which allowed you to linger outside late into the night.

Arcades. A series of arches supported by columns is called an arcade. This is an old architectural feature which originated in Rome. In the Mediterranean, the arcades sheltered walkways in town squares.