Outdoor Kitchens

There is something primal and deeply satisfying about cooking and enjoying a meal outdoors, be it toasting marshmallows on a campfire or grilling burgers for a weekend barbecue. These days socializing and entertaining feels less fraught when it's taking place outdoors, encouraging us to fix up our outdoor decks, patios, and backyards and move the party outside whenever possible.

And just as our indoor kitchens have become the hub of the home in recent years, with an ever-increasing attention to style and decor, and ever more demanding expectations for appliances and gear, these days we want our outdoor cooking spaces to be just as equipped, efficient, and stylish. Whether that means a chic, compact built-in grilling station on your condo balcony, a backyard patio with a wall of cooking and prep space, or a full-blown luxury outdoor kitchen that's part of an entertaining oasis complete with a fully equipped kitchen, dining and lounge spaces, depends on your space, needs, and budget.

Check out these outdoor kitchens in a range of styles, sizes, and price ranges that rival any indoor space for inspiration on how to turn your own outdoor cooking area into an oasis fit for endless summer gatherings of friends and family.
Vertical Garden
Seamless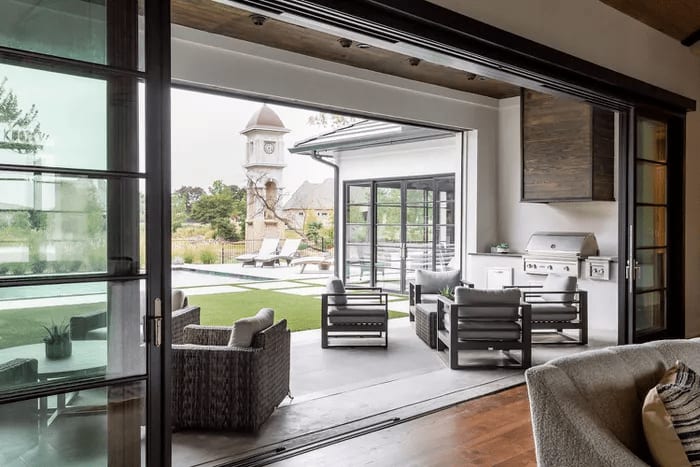 This outdoor kitchen from interior designer Lance Thomas of Thomas Guy Interiors is tucked onto the back wall of a spacious exterior patio and blends in perfectly with the outdoor space's gray and white palette and adjacent lounge space. Thomas recommends using weather-friendly materials and fabrics in an outdoor space for durability, such as eco-friendly rattan. And he recommends incorporating greenery such as banana leaf trees and orchids "to add a touch of nature," adding that "high-design planters can be a creative way to show off one's own personal style."
L-Shaped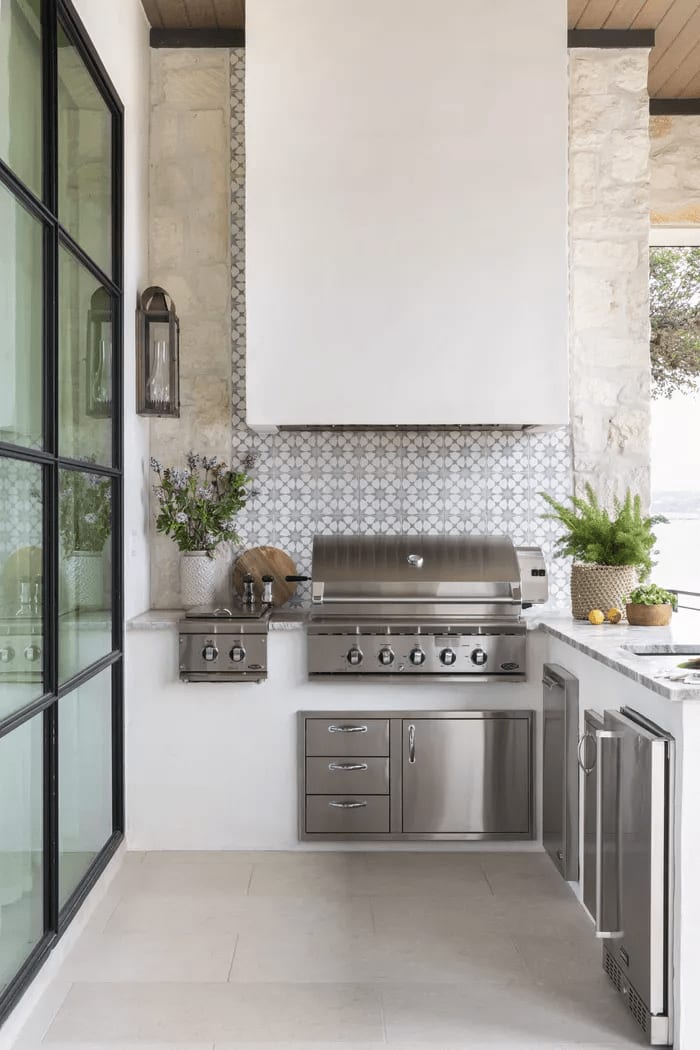 This L-shaped outdoor kitchen from Marie Flanigan Interiors has stainless steel appliances and a pretty patterned tile backsplash that makes it feel as put together as an inside space. An oversized statement hood vent helps to whisk away smoke from the grill and adds dimension to the outdoor space.


Family Style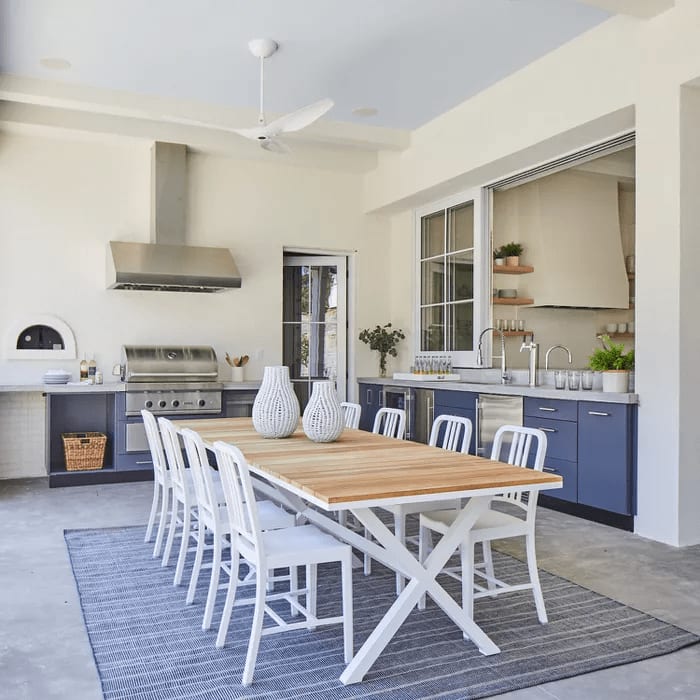 This spacious outdoor kitchen from Mel Bean Interiors is connected to the outdoors on one side and to the indoor kitchen on the other, separated by sliding windows, and features an outdoor living room space on the other side of the patio with a sofa and a fireplace. "It is important that the design is functional for the family," says Bean, who recommends "prioritizing hardworking fabrics and an open-concept layout that connects to the outdoors for family—kids and dogs included—to move around."
Semi Outdoor Space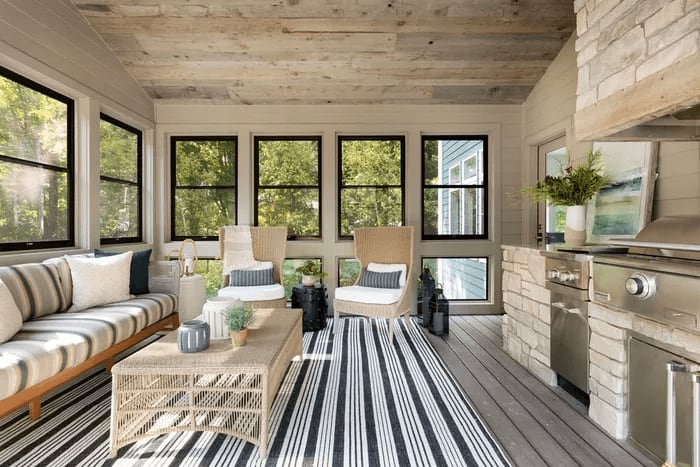 Design by Martha O'Hara Interiors / Photo by Spacecrafting Photography

Depending on the climate where you live, a fully outdoor kitchen isn't always desirable or realistic. This semi-outdoor kitchen from Martha O'Hara Interiors is located on the back screened-in porch of a Prior Lake, Minnesota bungalow that protects it from the elements and keeps cooks and diners safe from the bugs.
Industrial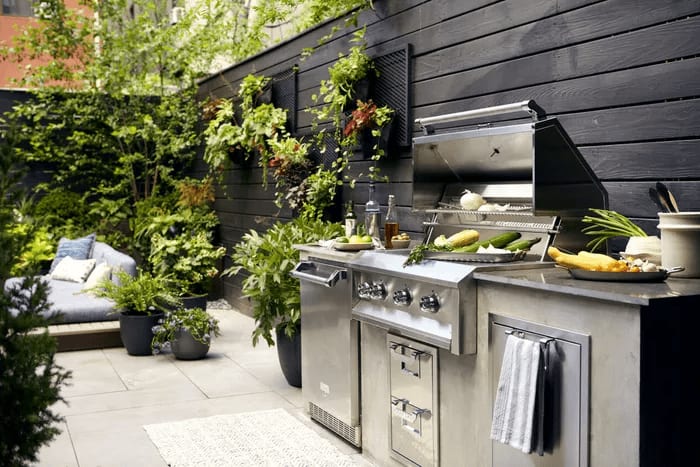 Design by Manscapers / Photo by Dane Tashima
This compact backyard kitchen grilling station from Manscapers has no-nonsense industrial stainless steel appliances, matte black wood fencing, and plenty of surrounding greenery to define the kitchen and lounge spaces and to soften up the industrial vibes of the kitchen.
Entertaining Space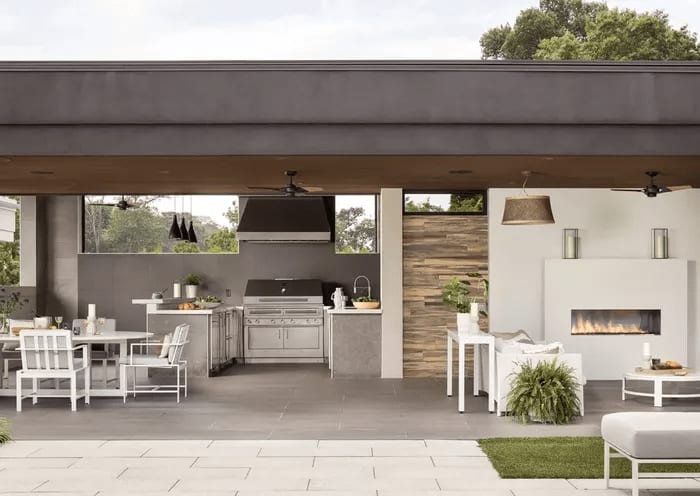 Design by Robert W. Adler & Associates / Kalamazoo Outdoor Gourmet
This outdoor kitchen designed by Robert W. Adler & Associates with an outdoor kitchen from Kalamazoo Outdoor Gourmet is part of a large home entertaining space in Oakhurst, New Jersey that features a dining area and lounge space complete with a modern linear fireplace.
Fine Dining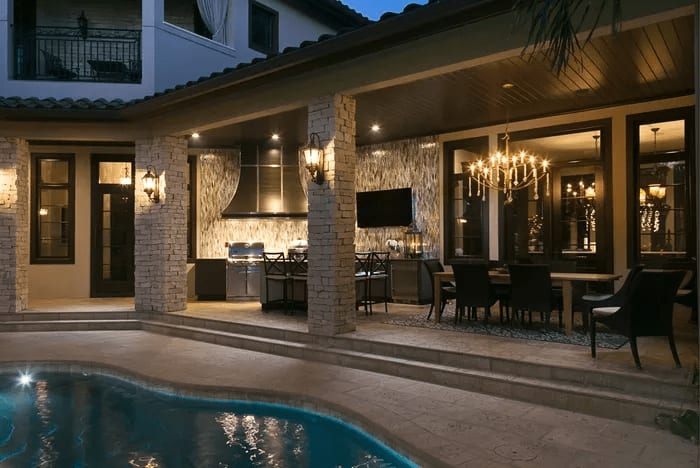 Design by Lisa Gilmore Design / Photo by Native House Photography

If you live in a state like Florida, you can invest in an outdoor kitchen knowing that it will get year-round use. This formal Florida outdoor kitchen and dining space from Lisa Gilmore Design is fully equipped and lit for poolside cooking and dining thanks to built-in lighting on the ceiling, the cooking and prep spaces, and a giant chandelier over the dining table.