Fall is the best time of year and decorating for the season is even better. For as long as I can remember, I used pumpkins, mums and haystacks to decorate the front porch. Picking out the mum color was very important. On the east coast mums are very large and come in many colors. A couple of years ago I found blue, green and white pumpkins and started changing it up. I added foliage from the garden in greens and creams and white hydrangeas. As time has gone by, I have learned about adding textures, rugs, blankets and unusual foliage to make even more interesting arrangements. Below are a few particular favorites for the front door or to arrange in centerpieces.
Use Different Shades of One Color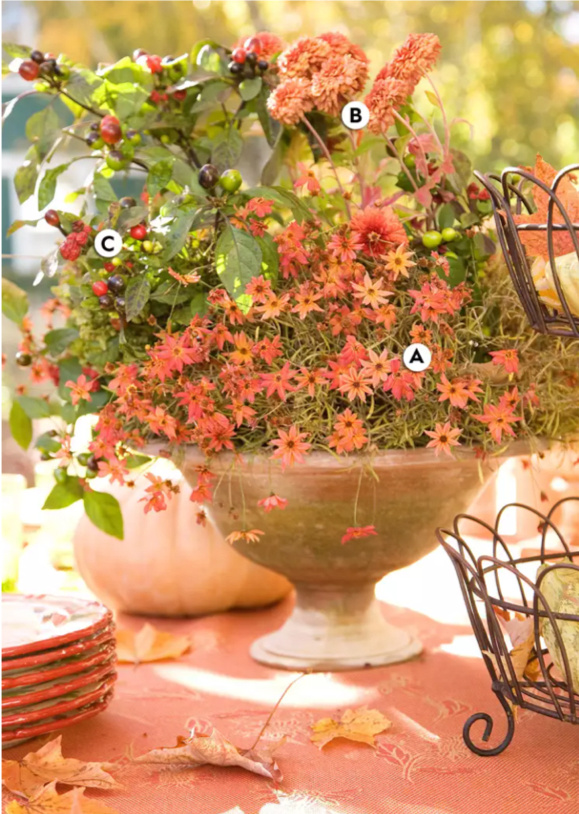 An airy mass of long-blooming coreopsis 'Mango Punch' combines with matching chrysanthemums and a few berried spikes of ornamental black pepper in a footed urn fall planter. Mango Punch' coreopsis, Chrysanthemum, Ornamental black pepper
When in Doubt, Add More Gourds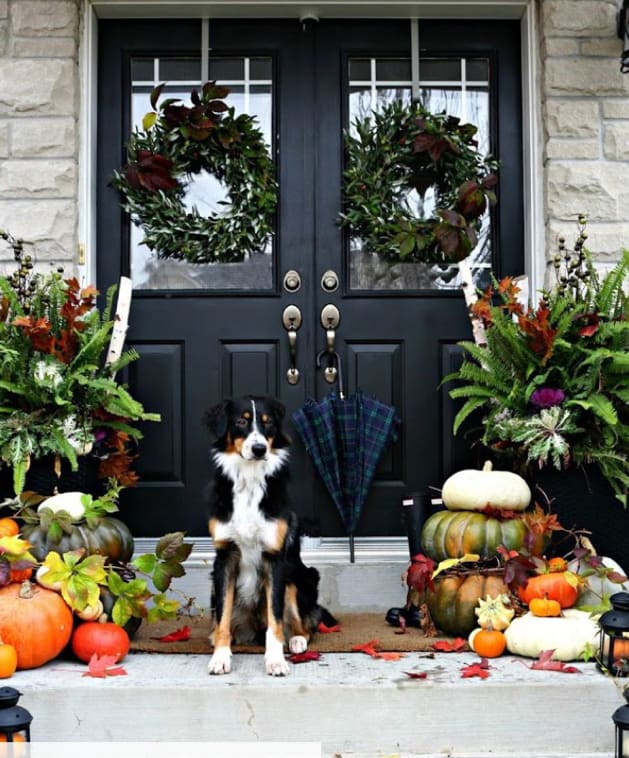 Stack pumpkins of different shapes and sizes on top of each other to make the most out of a small space. Tuck in faux leaves in fall colors for a layered look.
Add Corn Husks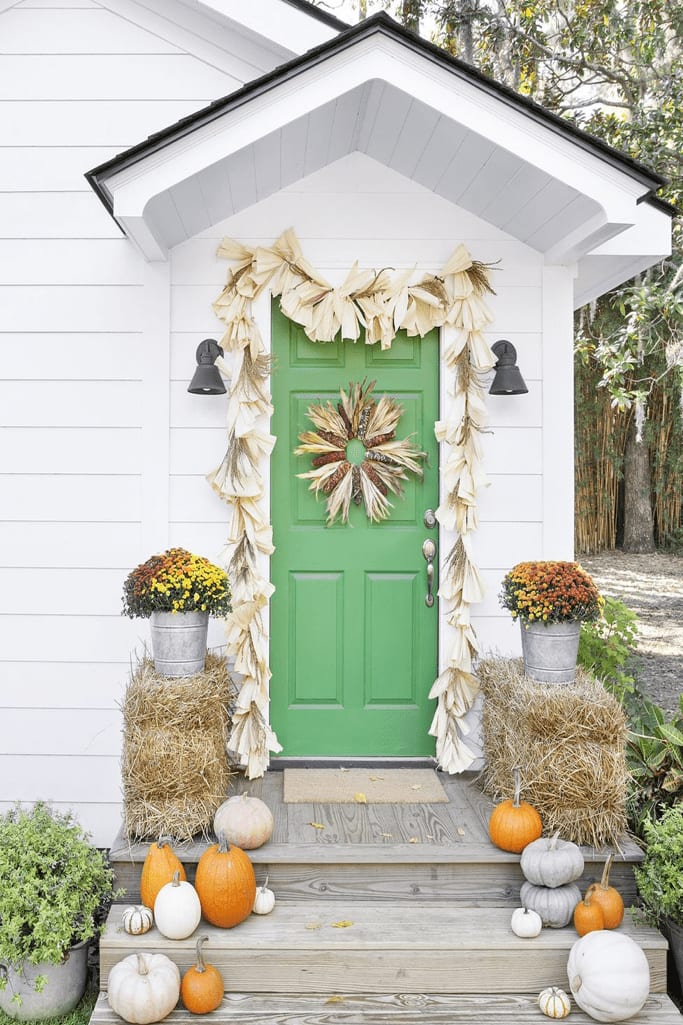 Add some serious seasonal curb appeal with these easy autumn DIY projects.
For the garland:
Cut a piece of ½-inch
jute rope
to your desired length (add a few extra inches to get the drapey effect at the top) and attach corn husks and silks with a hot-glue gun. (You can also use tamale wrappers.)
For the wreath:
Start with a flat-wire
18-inch frame
. Hot-glue corn husks (roughly 18) and
corncobs
(roughly 9) in an alternating pattern. Fray the ends of the corn husks to add dimension.
Christopher Shane
Fill a Pumpkin Cart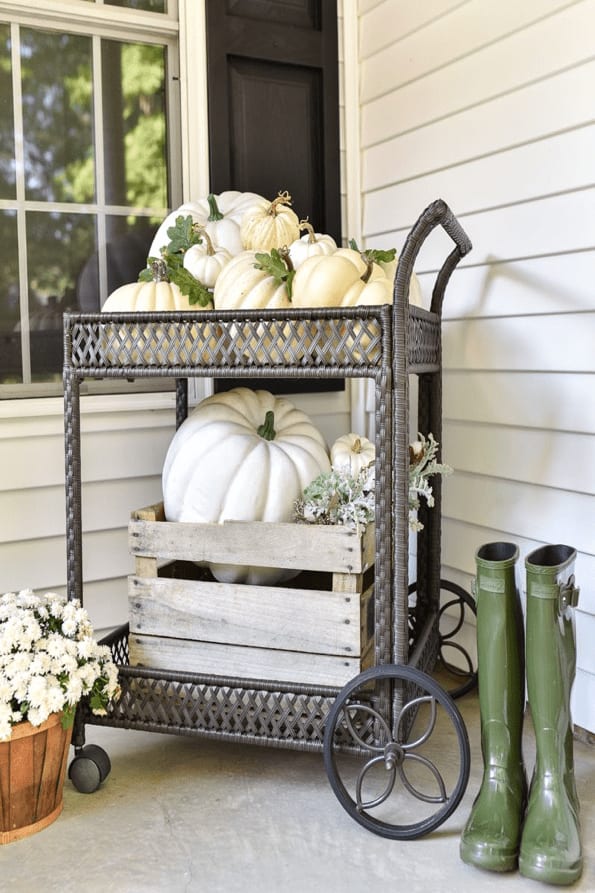 Give your outdoor bar cart more time to shine this fall by stashing pumpkins and gourds on each shelf. Add more flair by interspersing a bit of greenery.
Add a Rocking Chair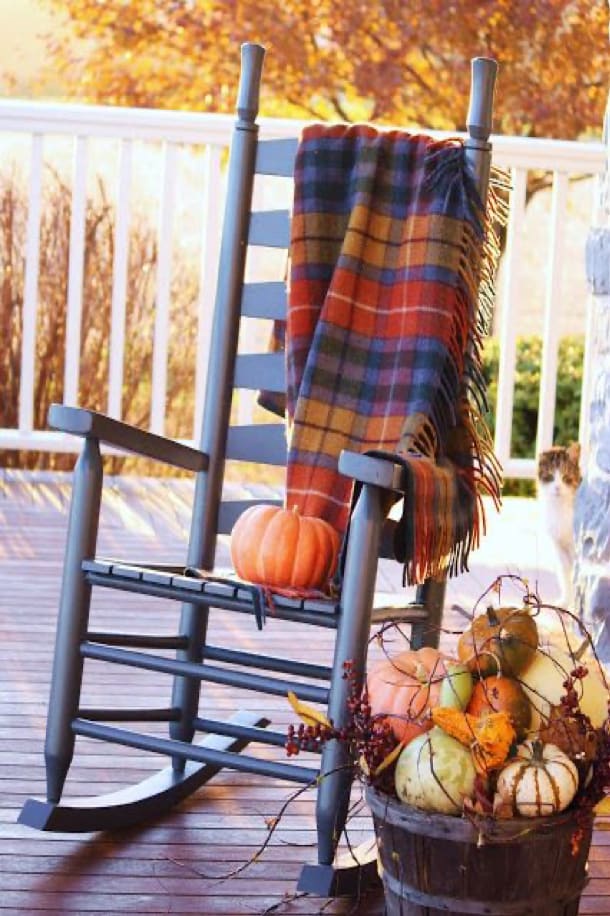 Courtesy of Stone Gable Blog
There's no better spot to relax on a crisp fall day than a rocking chair (and under a plaid blanket, no less!) with hot apple cider in hand.
Hand-Paint a Pumpkin Crate
After your trip to the pumpkin patch, try adding some DIY flair to more than just your gourds.
Make an Autumn Garland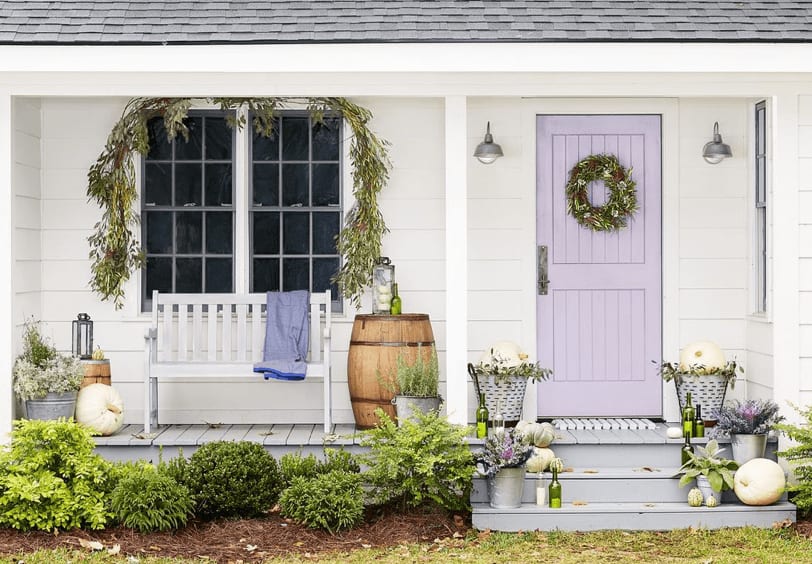 Drape a garland (this one is made from natural grapevine with seeded eucalyptus, olive branches, and preserved pink berries wired into it) over the porch window. Accent with white pumpkins and olive buckets.