Changing your front door color is an easy way to boost interest and charm if you want to refresh or update your home. Front door colors can also say a lot about your personality and the personality of your home. Bold, bright reds are vibrant and fun, cool blues are soft and inviting, and classic neutrals feel familiar and cozy.


You can mix up your home's style in just one weekend with a few hours and a can of paint. Check out some of these favorite front door colors to see which is a good fit for your home. Sometimes it's the little things that make a big difference in your home!


HECTOR MANUEL SANCHEZ; STYLING: BUFFY HARGETT MILLER
This cheerful blue looks good anywhere, especially on a white exterior or lighthearted Dutch door. It promises an instant smile from neighbors as well as curious house hunters. As a complementary balance, double up on pots. Keep the plantings equally loose and casual with baskets and mossy terra-cotta containers.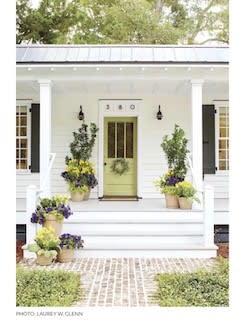 LAUREY W. GLENN
This citrusy color is best for a simple white cottage. A small dose of a daring hue, such as this surprising chartreuse tone, creates a dramatic look-at-me-now presence. Make it more modern by selecting house numbers in a sans serif font style to keep this cottage grounded in the present.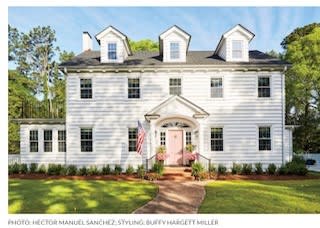 HECTOR MANUEL SANCHEZ; STYLING: BUFFY HARGETT MILLER
This pale pink is best on a blank canvas. This ballet pink takes center stage in this historical colonial-style home without competing with shutters. Bursts of pink flowers add to the sweetness without feeling too precious. Simple landscaping supports this focal feature with a minimalist approach.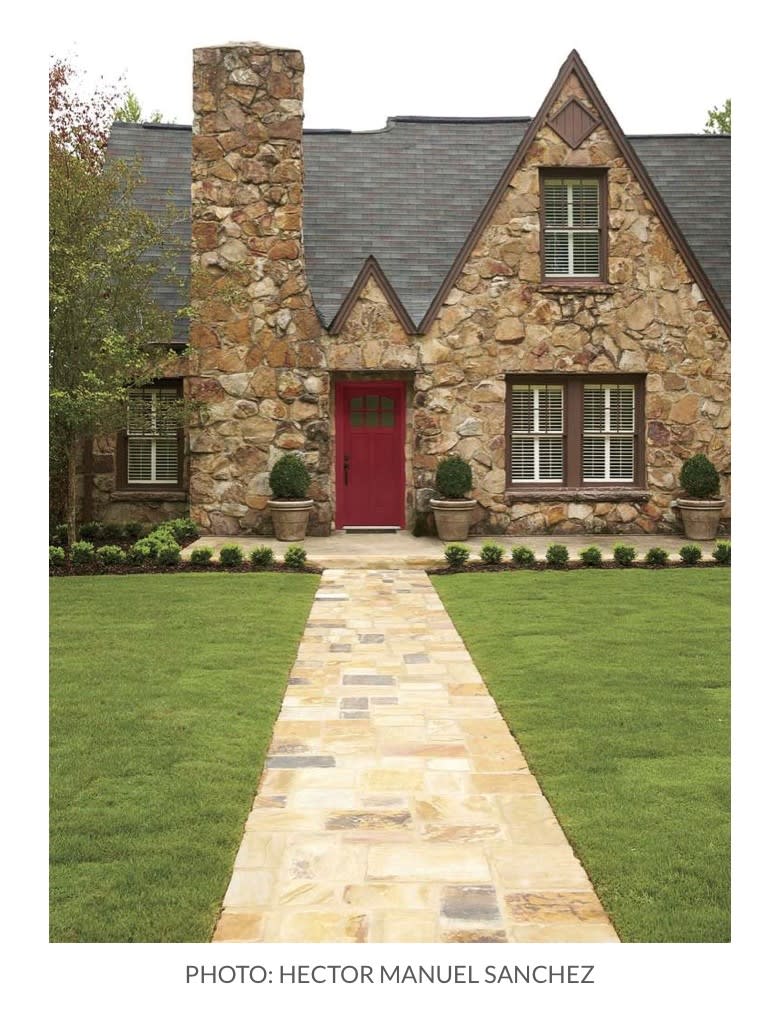 This traditional red is best for Tudors. Whether stone or stucco, big or small, these homes have a naturally imposing attitude. A welcoming door, lifted from the pages of a storybook, adds harmony to the house. Skip delicate flowers around the entryway, and pick shapely boxwoods for effortless impact. Trim for a crisp look, or surround them with dark grays for a romantic, moody look.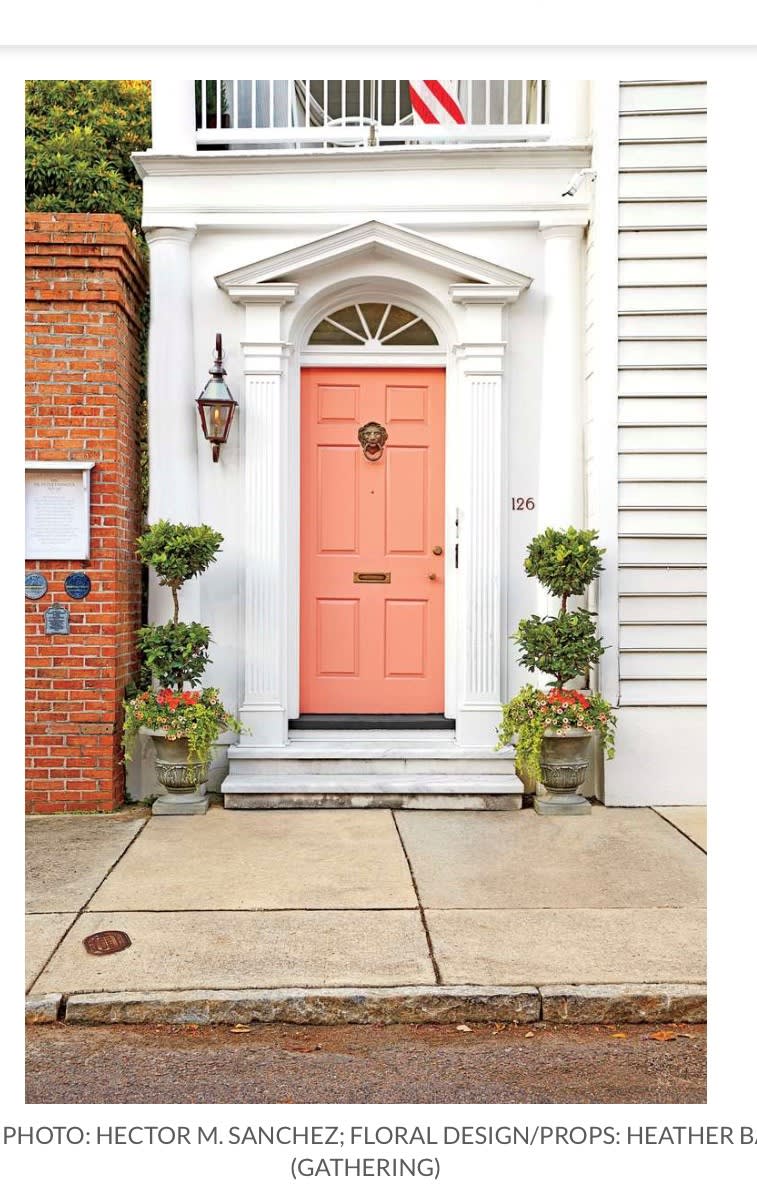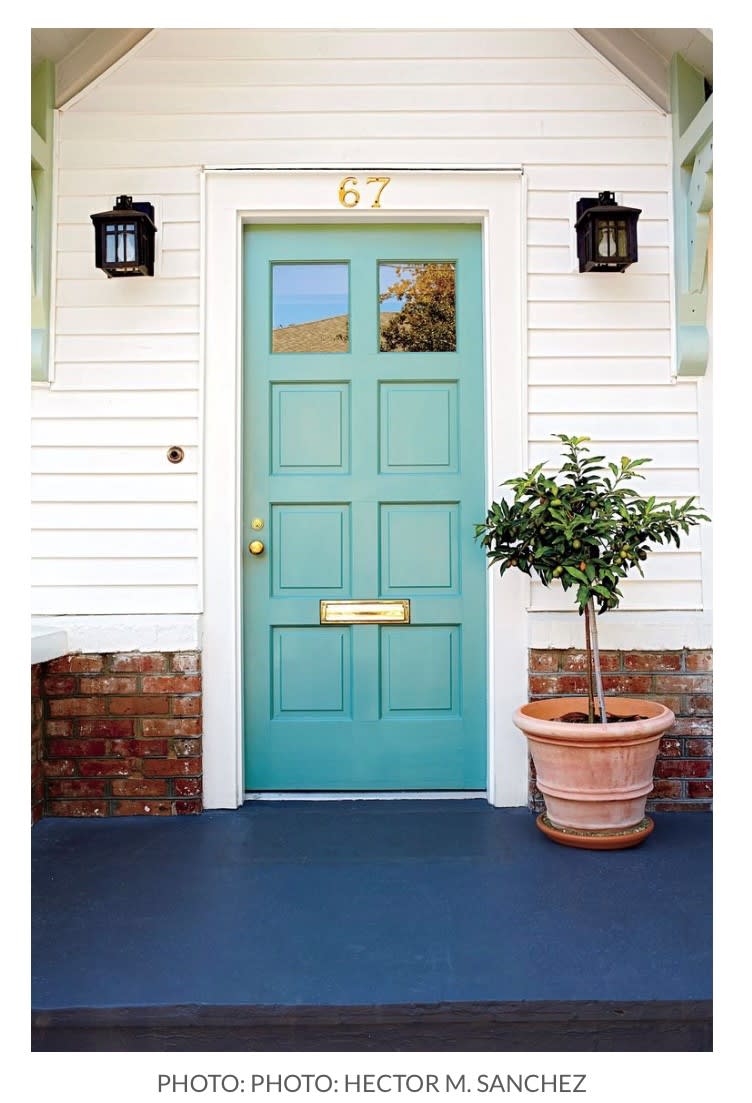 People typically fall into two categories: blue lovers or green lovers. Make everyone happy with this pleasing shade that's equal parts of both. It looks just as good on a shingled house as on stone.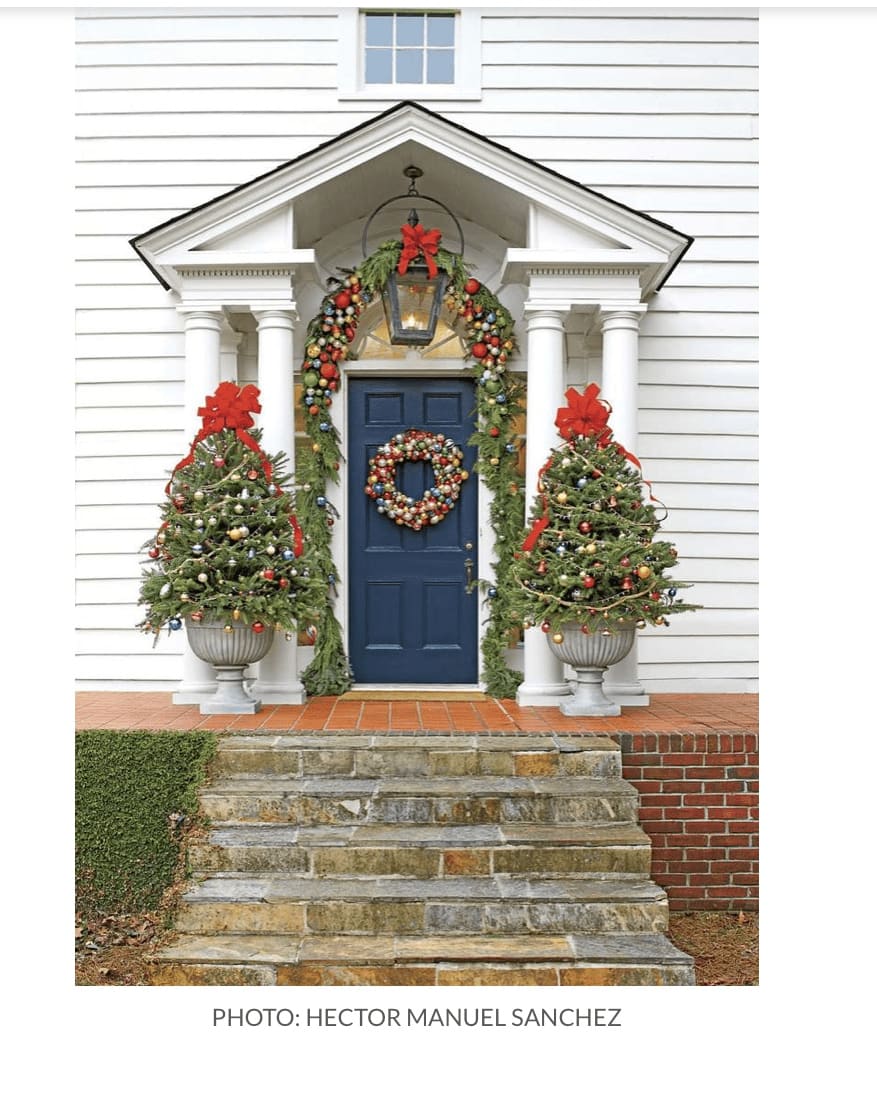 A paint color that simultaneously adds a bold new look to your exterior and retains a classic look doesn't happen too often. A true navy adds personality to your home that can coordinate with many styles. Navy will complement your house and its surroundings whether you have brick, siding, stonework, or clay structures. Dress it up with colorful potted plants that can change with the seasons.
Create a welcoming entrance with an expansive terrace and a front door with a custom coat of rural green. This moss-green paint color pairs well with the house's siding and alcove in varying shades of white. Keep the landscaping neutral to complement this natural setting.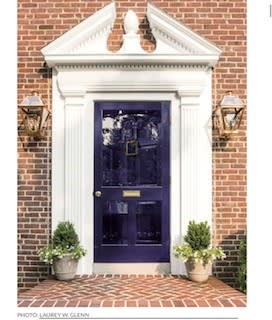 LAUREY W. GLENN
This rich purple is best for Georgian architecture. These houses' roots go back to a style popular during the reigns of four British kings named George. This paint color is a stately shade of purple and a nod to your home's royal connections. For contrast, leave the trim light. Break up the dark eggplant door and red-brick exterior with white on the pediment and pilasters.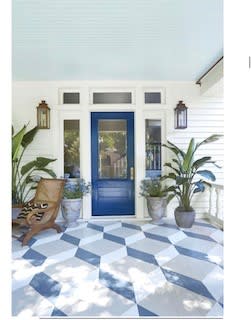 HECTOR MANUEL SANCHEZ
This saturated shade is best for craftsman-style homes. Their blocky millwork and deep porches were historically associated with muted earth tones. Consider a new approach with a shot of cobalt to brighten your bungalow. For a modern update, stencil the floor. You can paint a tonal geometric pattern across your front to offset the door's deep shade.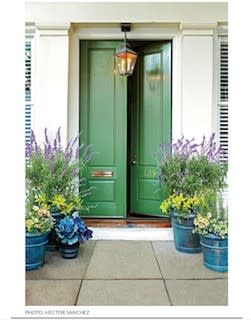 A black door—like a little black dress—adds instant distinction to your home, whether a small cottage or a big manor. There's a reason why some things are classic. Dark shades work in two ways: Offset them with plenty of white.

Want to add a quick pep to your exterior? Look no further than this cantaloupe hue. It's a little unconventional but not too out there to hear anything other than "I wish I would have done that" sentiments from the neighbors. This shade works best on homes painted white or gray.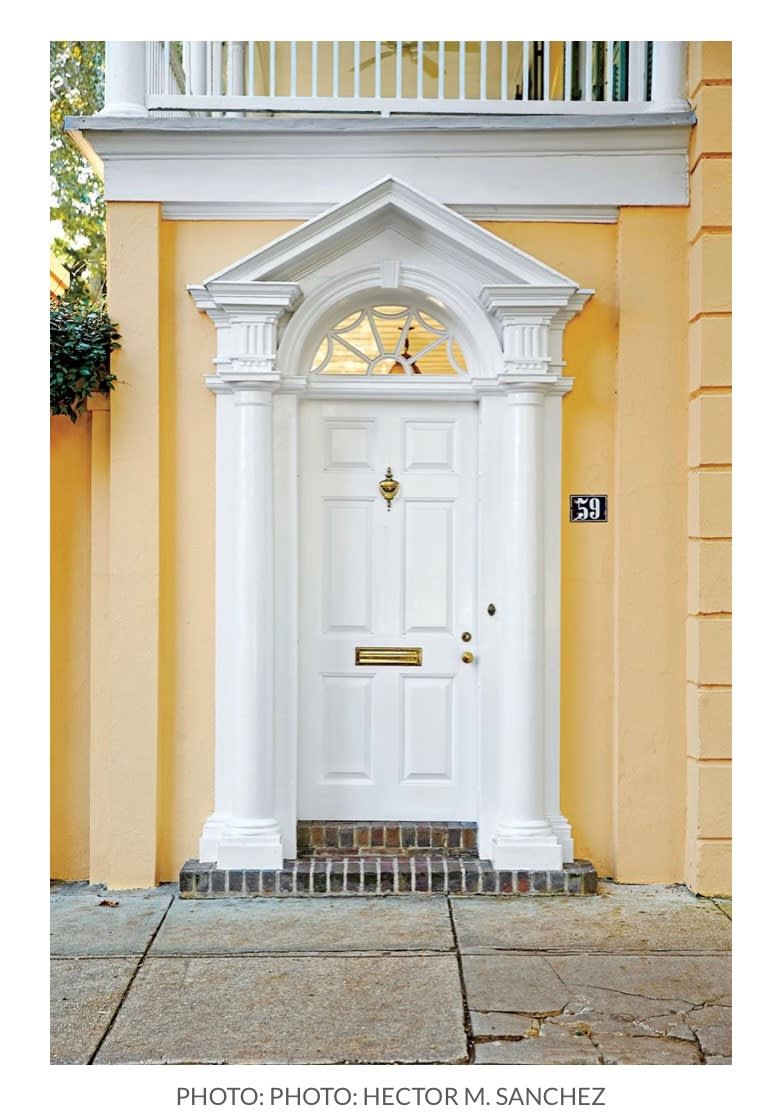 The uplifting power of a fresh coat of white paint never gets old. Well-known facts aside, white also neutralizes a door with elaborate carving or brightens up a dark exterior. If you're going for the white-on-white exterior palette, choose a slightly deeper white for the door than the shingles to give it some dimension.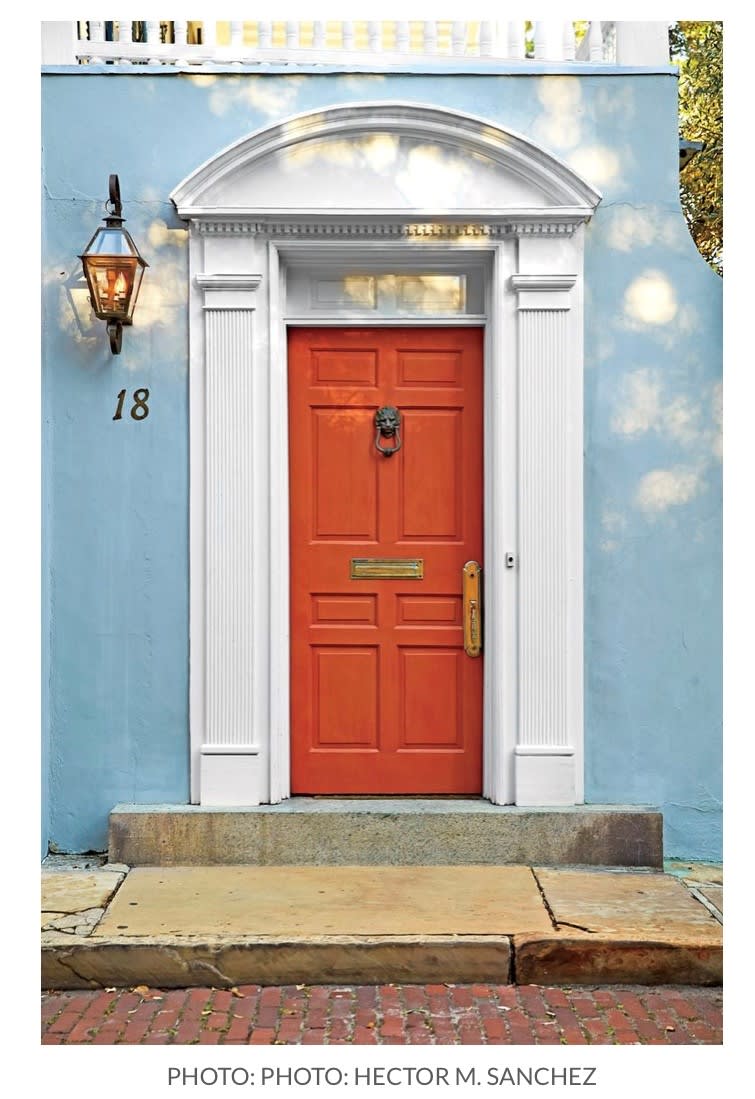 Embolden your home with a complicated, dramatic door color like a vermillion. It's not quite red, and it's not quite orange. It's somewhere in the middle. Keep expressing your wild side and outfit the rest of your door with atypical things like planters filled with sculptural agave plants.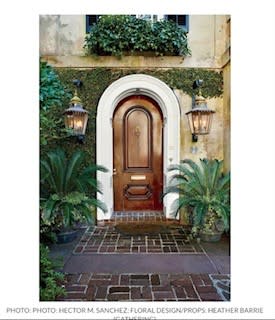 Don't force a painted finish on a beautiful wooden door. Try a rich stain instead that will bring out the wood's grains. Surround it with loose, lush green plantings to loosen up the stain's stately vibe.