Create a Spa Bath at Home
Whether you are building new or remodeling on a budget, you can incorporate some of these ideas into your plans to create a luxurious spa bathroom and not have to miss out on the experience.
Let it Rain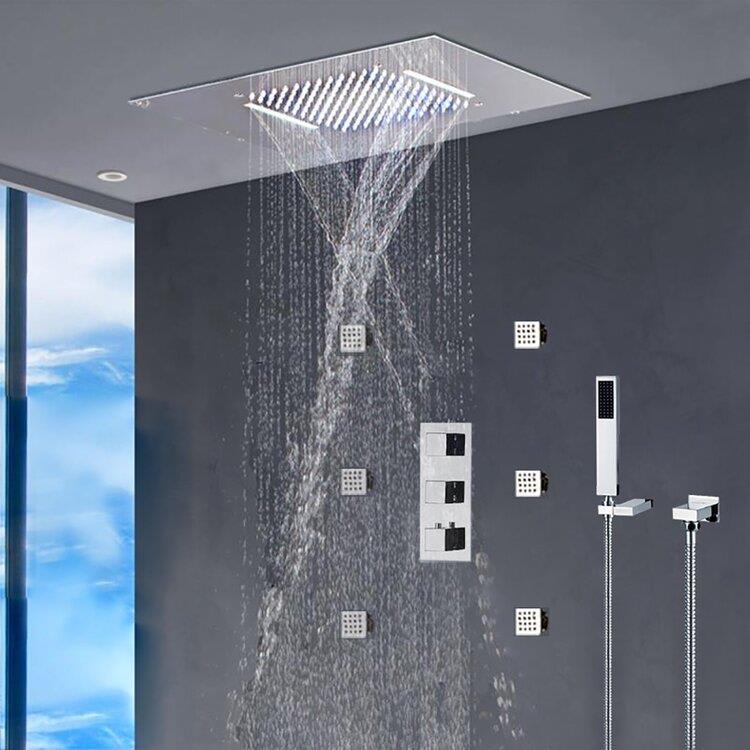 Upgrade your shower experience by swapping out your current shower head for a rain fall version. The nozzle pattern of the
KOHLER Forte Katalyst
combined with its internal waterway design and air-induction system creates an intense flow of water that mimics relaxing rain showers.
Available at
The Home Depot
; $50.13.
The shower configuration above is no longer compliant in CA due to water restrictions, but some options can work to create that car wash affect. Talk to a professional to discuss what will meet CA compliant requirements.
Set Up Surround Sound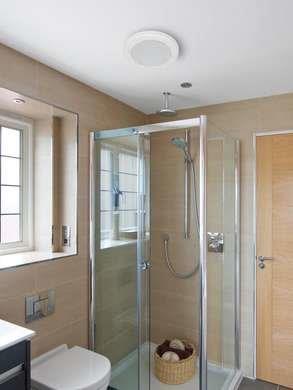 Most spas play soothing music or nature sounds to add to the relaxing ambiance. Whether you enjoy that or prefer hard rock tunes for singing to in the shower you can stream them through
Home Netwerks' Bluetooth stereo speaker bathroom exhaust fan
. The innovative ventilation fan integrates a Bluetooth speaker and LED light all in one. You no longer have to keep an old stereo in the bathroom or worry about your phone getting splashed with water to enjoy your favorite playlist. For larger projects add speakers during construction and go Bluetooth with Sonos.
Heat things Up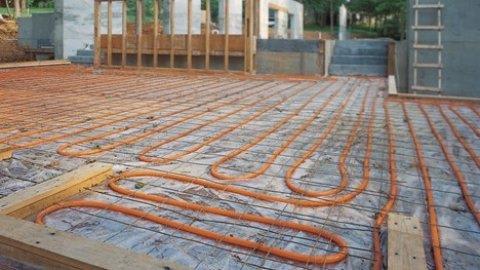 Towel Warmer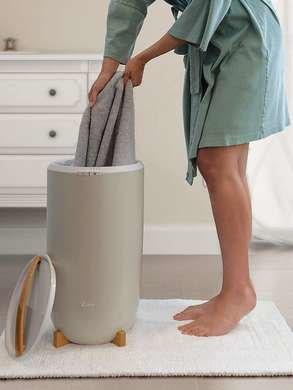 Treat yourself to a toasty warm towel after your
shower
or bath. Place your towels, PJs, robes, blanket, or whatever you desire into the
bucket-style towel warmer
and set its timer to 15, 30, 45 or 60 minutes. It'll automatically shut off once ready, and you'll be able to wrap yourself up in the cozy comfort.
Available on
Amazon
; $103.79.
Upgrade Your Toilet or Your Seat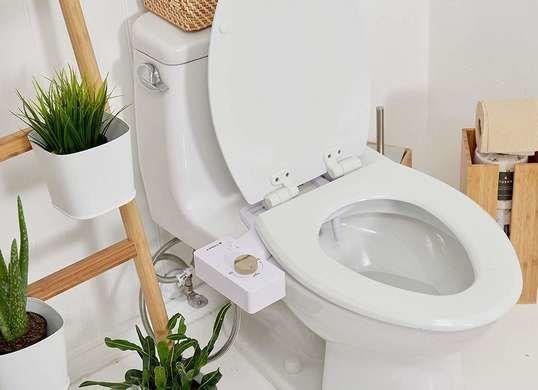 The bidet is a staple in many bathrooms outside of the U.S. and now you can discover why so many prefer it with
Tushy
. It features a nozzle adjuster and pressure control knob that lets you adjust the self-cleaning nozzle spray angle and water pressure to your liking. It takes just a few minutes to install the bidet attachment to your toilet.
Available on
Amazon
; $99.
Toto and Kohler also have their versions of the combined Toilet/Bidet which requires an electrical outlet. Toto and Kohler both have excellent options which run from $5-10K. Kohler's Veil is so advanced and boasts to be very hygienic as well. With its flowing and immaculately balanced curves, the Veil one-piece toilet with integrated bidet functionality epitomizes minimalist and ergonomic design. Its sculpted core provides a suite of precision features finely tuned to offer optimum hygiene and ultimate individual comfort, from bidet personal cleansing to an LED nightlight to hands-free opening and closing. All of the features are easy to control on a touchscreen LCD remote control.
FEATURES
Compact, streamlined one-piece toilet with integrated bidet.
Comfort Height® feature offers chair-height seating that makes sitting down and standing up easier for most adults.
Elongated bowl offers added room and comfort.
Tankless design with direct water supply.
Dual flush offers a choice of 0.8 or 1.28 gallons per flush (gpf).
Stainless steel bidet wand offers adjustable spray shape, position, water pressure, temperature, pulsate, and oscillate functions.
Anterior and posterior nozzles provide warm, aerated water for gentle cleansing.
Self-cleaning function uses UV light and electrolyzed water systems to sanitize the bidet wand surfaces.
Warm-air drying system with adjustable temperature settings.
Automatic deodorization system.
Heated seat with adjustable temperature settings.
Motion-activated, hands-free opening/closing of seat and cover.
Quiet-Close™ lid closes slowly and quietly without slamming.
LED lighting illuminates the bowl to serve as a night-light.
English-language touchscreen LCD remote control.
Pump-assisted flushing for strong flush performance.
Dual-flush technology allows you to choose between a full- or partial-flush.
Emergency flush supports up to 100 flushes during power outage with simple touch-button activation.
Limit the Light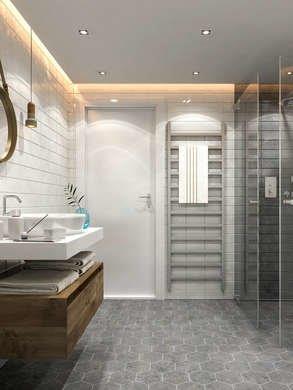 The light surrounding your vanity needs to be reasonably bright for daily shaving and beauty regimens, but you don't need the same brightness when soaking in the tub. Replace the lights in your bathroom with GE LED+ Color bulbs. The remote-control operated bulbs have 10 different color settings—two white temperature colors in soft white and daylight, and eight RGB vivid color settings—so you can always set the right mood. Available on Amazon; $16.89.
Try a Little Opulence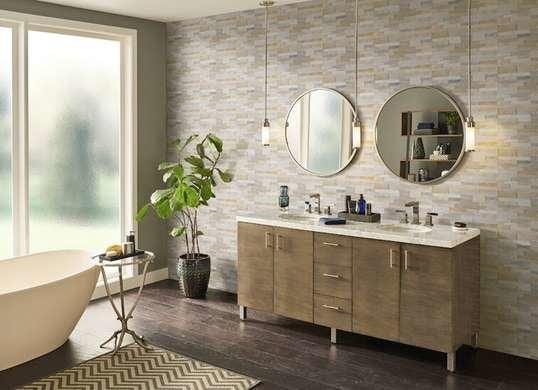 Like the Roman baths of centuries ago, stone continues to add a richness to the modern bath. Retiling a bathroom is a messy and expensive project, but you can change the look of your bathroom with peel-and-stick tiles.
MSI's Natural Stone Peel & Stick Mosaic Tile
is a mix of soft neutral shades and textures. Use it as a new backsplash behind the sink or wrap it around the base of your tub.
Available on
Wayfair
; $13.26 per square foot.
Create a Wet Room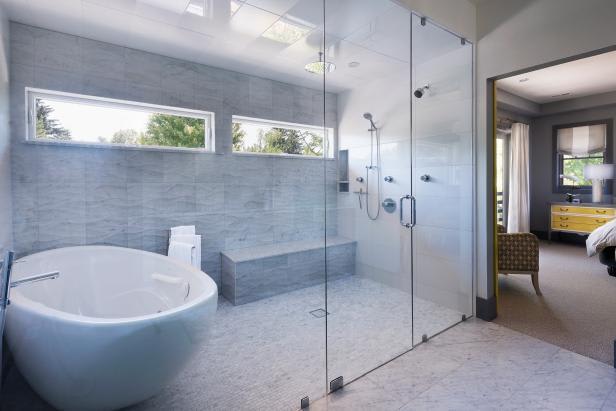 This is my favorite idea and one I hope to incorporate in the LA home I am building. Wet Rooms are not necessarily new, but the idea has caught on in the last couple of years. Kristi Dinner, a principal designer at Company KD in Denver, designed her first wet room 10 years ago when working on a bathroom space with size constraints in a 1960s home. Combining the tub and shower into one area allowed Dinner to include all desired amenities in the snug space. Wet rooms continue to be a smart solution for small spaces, but they're also turning up in luxury bathrooms. It's a natural step from the freestanding tub trend which gained momentum a few years ago, Dinner says. "It's both a function of how the water from the tubs is affecting these spaces but also the aesthetic of these tubs," she says. "We're able to highlight a lot of sculptural tubs (with wet rooms)."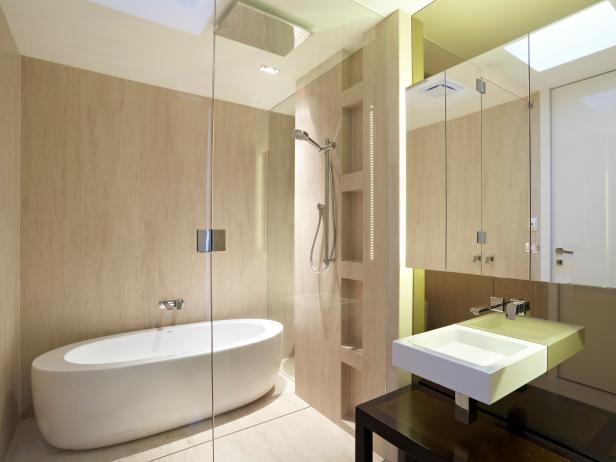 Ilija Karlusic
What Are the Benefits?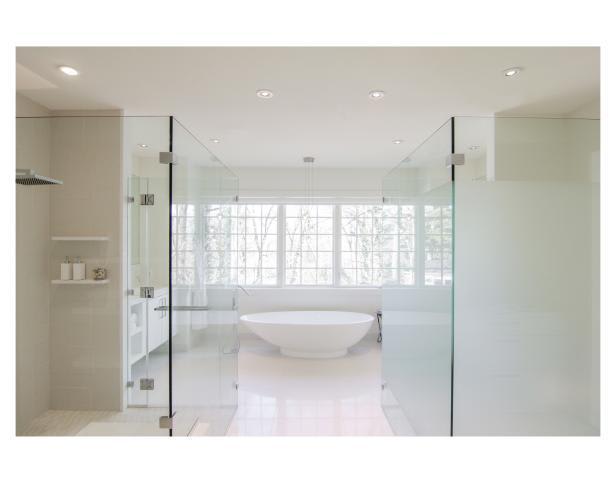 Many luxury freestanding tubs are paired with floor-mounted tub fillers, an elegant feature that may invite some extra splashes and spillage. These beautiful tubs and fillers aren't meant to be hidden, though, so a compromise is to include them in a wet room defined by simple, clean glass walls.

"It gives you a really stunning visual behind the glass," Dinner says. "You can make the most of the materials."
What's the Catch?
Layout, size and plumbing setup may make a wet room a tough fit in some bathrooms. Including a shower and tub in a single space is also a highly personal preference and could affect resale value if that is a concern you have for your home. For those who are interested in adding a wet room, Dinner stresses that it's important to work with professional designers and architects on the project. A designer can both help you determine if a wet room is a good fit for the space and ensure that the correct materials are used for the project.

Chipper Hatter, Design by Inspired Interiors