These products are not new, but as we put 2020 on hold, I wanted to share how far these engineered surfaces have come. Now its time to refresh, renovate and revitalize your home with these winners!
Engineered surfaces are having a material moment. Engineered quartz, for example, typically created from about 90% to 95% ground quartz and 5% to 10% resins and pigments, is a durable, stain- and scratch-resistant material that works wonders as kitchen and bathroom countertops, shower walls, fireplace surrounds and more. In fact, more than half of renovating homeowners who upgrade their kitchen counters are choosing engineered quartz, according to the
latest Houzz research
. And despite dramatic price increases due to tariffs on imports from China, which is a big exporter of engineered quartz, the material's popularity as a kitchen counter choice is up 5% compared with 2019. Nowhere has the popularity of engineered quartz been more evident than at the 2020 Kitchen & Bath Industry Show, held Jan. 21-23 in Las Vegas.
Engineered surfaces dominated booths to the point that it was difficult to find granite or marble slabs. Indeed, major brands and emerging players from all over the world had a strong presence at the event. Here's a look at some of the latest styles, colors and other design trends in engineered quartz and other engineered surfaces.
Veiny marble-look whites and grays were popular among the products introduced at the show, including Dekton's Rem color, shown here as a bathroom vanity, sink and wall cladding.
Dekton, an ultracompact surface, is made through a process that heats and compacts raw materials used to make glass, porcelain surfaces and quartz surfaces.
But much of the excitement was generated by several new dark colors. We'll return to the lighter shades later in this article, but first let's take a look at the darker ones.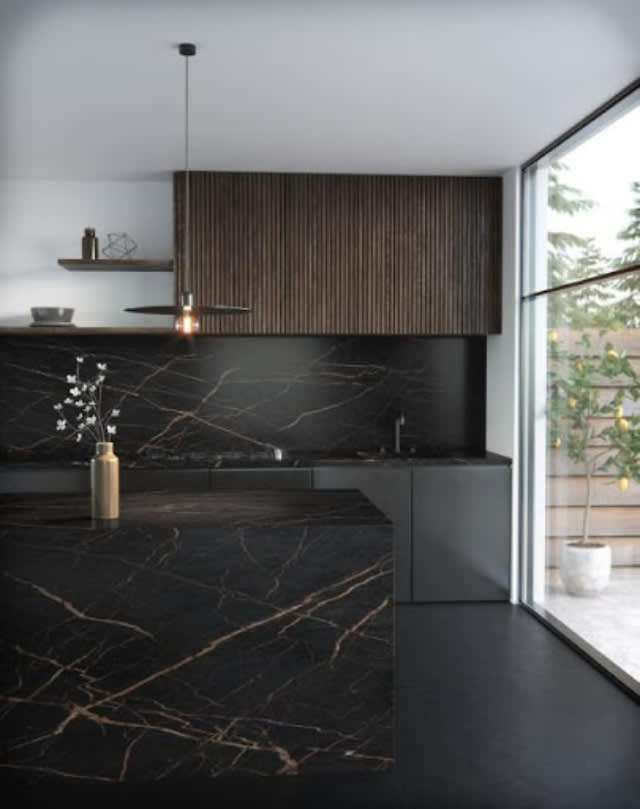 The Dark Side Awakens
One of the most noticeable trends at the show was the emergence of several lines of dark engineered surfaces, in colors such as jet black, charcoal gray and even dark green and blue. One of the most captivating was Dekton's Laurent slab, shown here as kitchen countertops, island cladding and backsplash. The dark brown background with gold veining is part of the company's new Avantgarde collection, which debuted at the show and features three dark hues.
If you were at KBIS and visited the Dekton booth, you might have seen the seemingly never-ending crowd gathered around the dark Laurent slab to snap photos of it and touch it.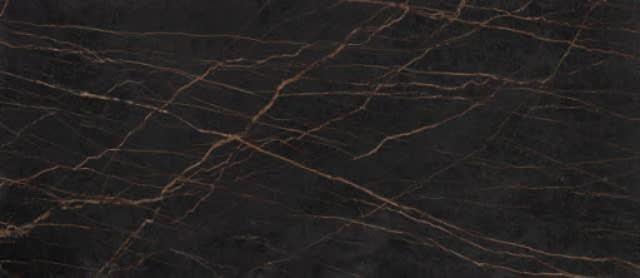 Here's an up-close view of Dekton's Laurent surface, which was inspired by Port Laurent marble.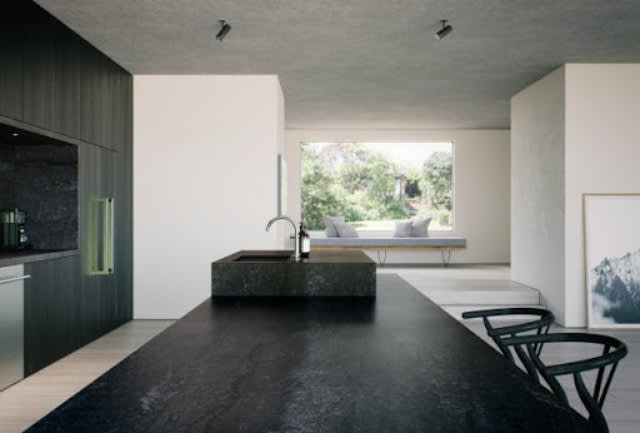 Caesarstone's Dark collection, also introduced at KBIS, includes four new colors, including Black Tempal, seen here. They have a textured, matte finish for an even more dramatic look.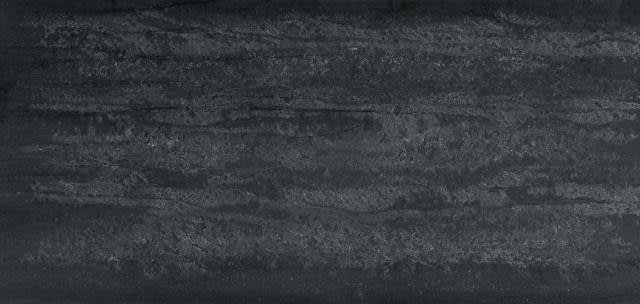 Here's a closer look at Caesarstone's Black Tempal, which has soft mineral deposits that offer contrast to its dark charcoal base.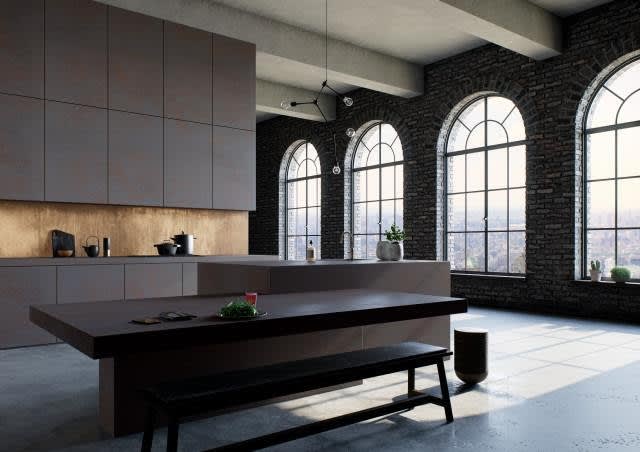 Caesarstone's new Oxidian surface, seen on the cabinetry and island in this loft-style space, has an aged-rust look that blends dark gray, rust and blue. If you want to go full-on black, consider Caesarstone's new Piatto Black, shown here as a kitchen countertop.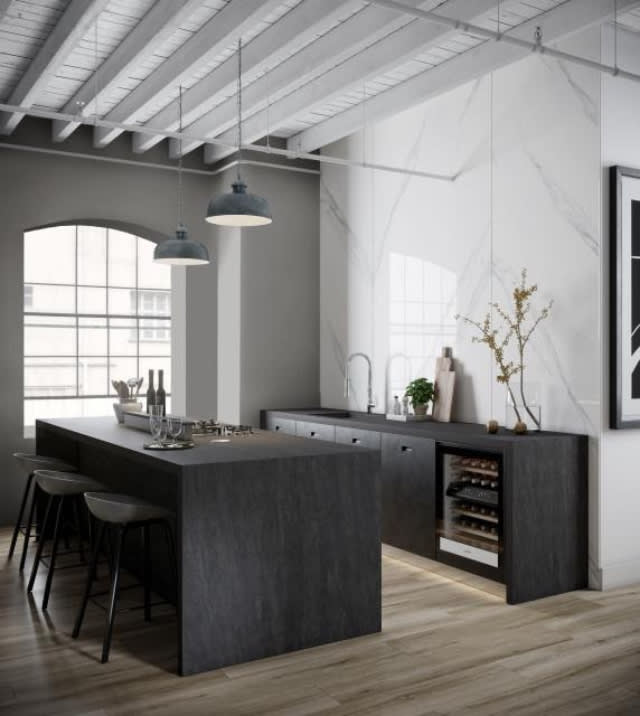 In addition to Avantgarde collection, Dekton — a brand owned by Spanish company Cosentino — introduced its Portfolio collection. Inspired by various natural rocks, the collection comprises three new dark colors. Bromo, shown here as kitchen countertops with waterfall edges, is a dark blue shade reminiscent of metamorphic rocks such as slate. Here's a closer look at the faded-graphic composition of Dekton's Bromo.
Coante, a Turkish manufacturer of engineered quartz, showed off this display at its KBIS booth. Again, you can see some of the dark, matte finishes that companies are betting will be big in the coming years.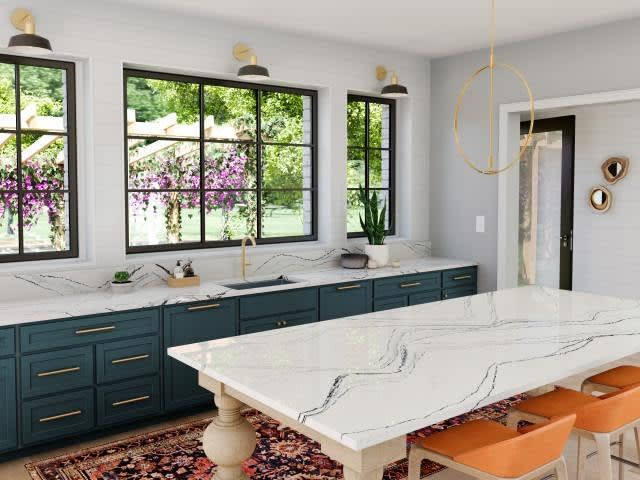 Blue Crush
Several of the new quartz colors play to the recent rise in blue cabinetry by featuring wisps of navy veining as well as colors that complement blues, such as grays, taupes and warm gold.
Included in Cambria's new collection of 20 colors is Portrush, shown here as kitchen countertops. Its white base supports crisscrosses of navy, gray and black veining, with finespun filaments of gold flakes.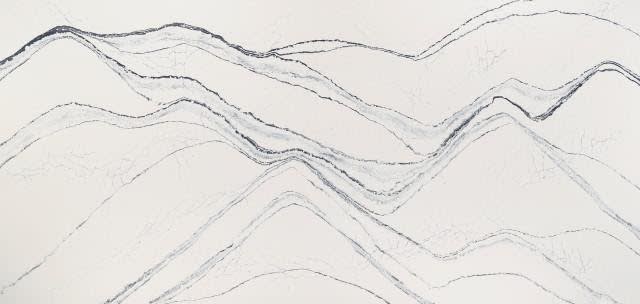 This close-up of Cambria's Portrush shows its varied tones, which would beautifully complement navy blue or even forest green cabinetry.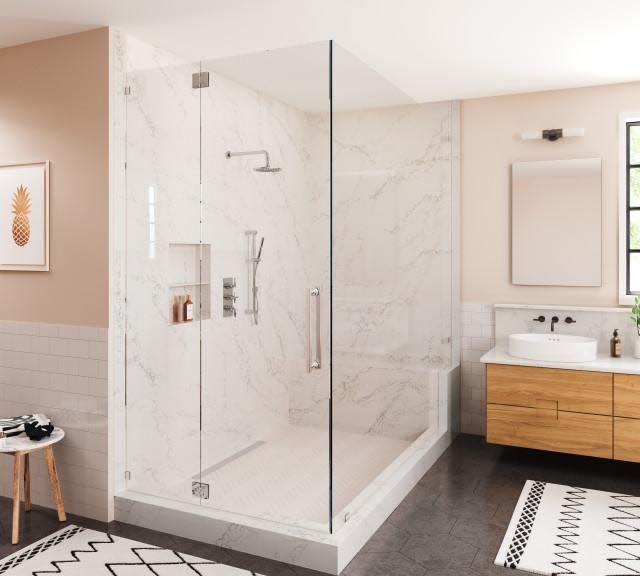 Engineered surfaces aren't just for countertops and backsplashes. Cambria's quartz product, for example, can be cut as thin as 1 centimeter and be used to clad fireplaces and shower walls, as shown here with its new Colton color.
Similar to Clovelly, this color offers a creamy background with rusty, brownish-gray veins that work well with warm wood tones.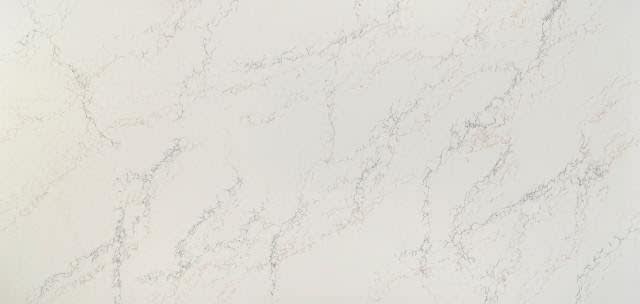 A detailed look at Colton by Cambria.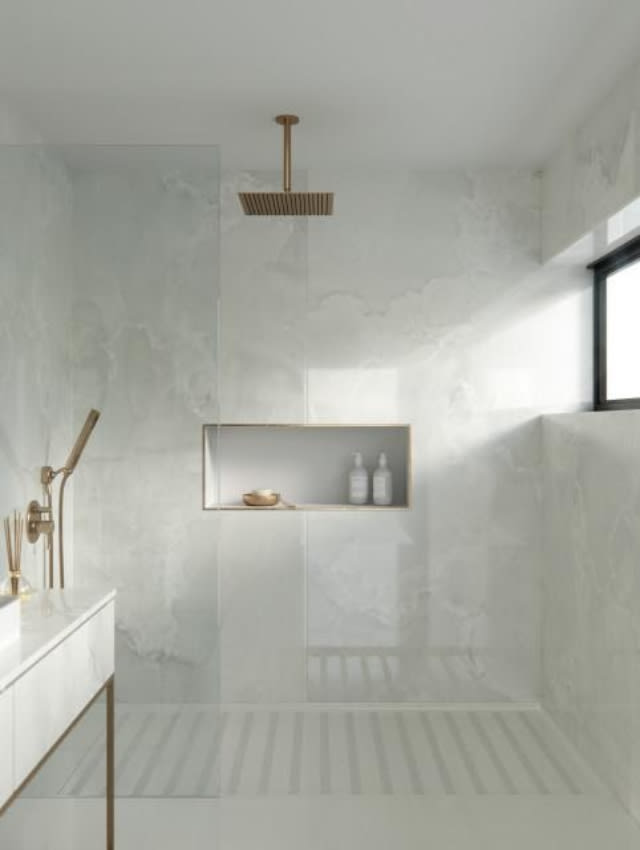 Dekton's Helena, also in its Avantgarde collection and shown here as shower wall and vanity cladding, has a translucent appearance in whites and grays, inspired by natural onyx.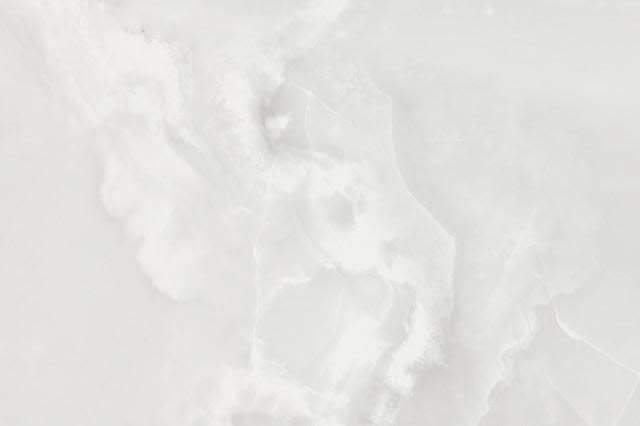 A closer look at Dekton's Helena.
For a heavier dose of gray, consider Cambria's Bradwell, used here in a walk-in pantry. Its backdrop of medium gray supports dark gray strands and clusters. A detailed look at Cambria's Bradwell.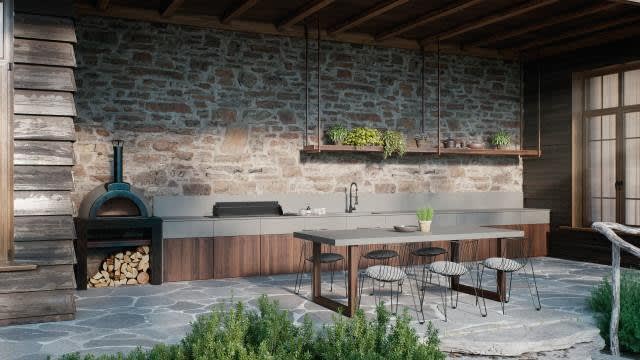 Gray — or engineered surfaces, for that matter — isn't for indoor use alone. At KBIS, Caesarstone launched its new Outdoor line, which includes three colors.
It's Clear Skies color, shown here as an outdoor-kitchen countertop, backsplash and dining table, has the look of pale gray concrete. The outdoor products have been refined to account for high heat, harsh sunlight and temperature variations.
Mitchell Parker
, Houzz, February 1, 2020