Believe it or not, I am ALA (American Lighting Association) certified. What that means is I know a lot about lighting, however I am still far from being an expert. It also means I know enough to have an opinion and when it's not done right! Sadly, when builders make allowances for lighting, they provide a ridiculously low allowance or it gets reduced due to over rides earlier in the build process; Thus, lighting does not get the attention it deserves in a home. Lighting is hard. Just like plumbing is hard. Just like appliances are hard. Most people do not understand lighting other than functional ambient lighting so the true budget for good lighting is not allocated appropriately. A good foyer lighting fixture can easily run $10,000 and that is usually the entire budget for decorative lighting. So we established that lighting is not easy—but it doesn't have to be complicated, either. Comfort, utility and beauty can be achieved using layers of light: Ambient light to provide general illumination and comfort, task lighting for utilitarian purposes like reading and bathroom tasks and accent lighting to dress up any room. Layering your lighting simply means stepping beyond the basic overhead general light and thoughtfully arranging different styles of lighting to create a cohesive and functional lighting plan.
Ambient Lighting
Your first and most important/basic layer is ambient lighting. This is the foundational, general illumination that helps you see as you walk up the stairs or keeps you from bumping into furniture. It is functional. Flipping on the light switch and being able to see your surroundings is most commonly accomplished with overhead lights: that includes recessed lighting, flushmount or semi-flushmounts fixtures or even a ceiling fan with light.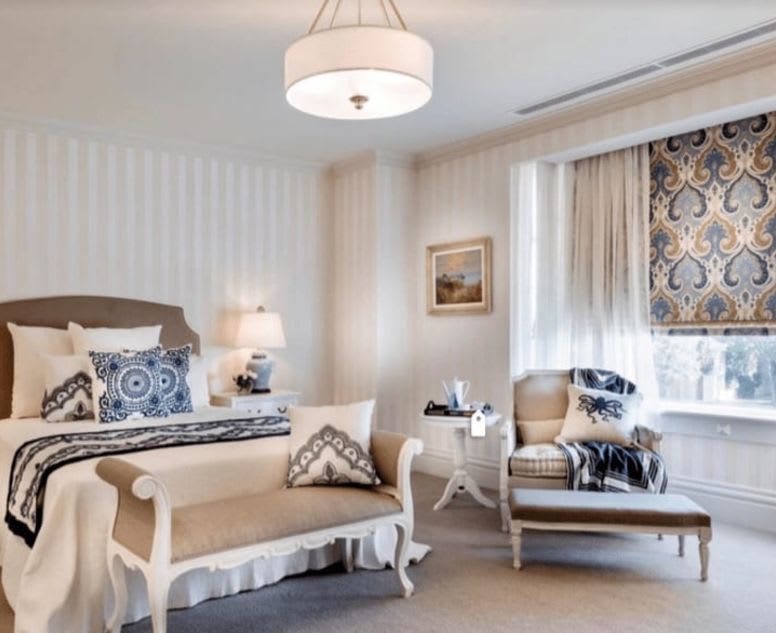 Things to keep in mind about ambient lighting:
Lower lumens are OK. Ambient lighting can be less intense than task lighting—though not a hard-and-fast rule, multiplying the room's width and length by 20 can tell you about how many lumens you need for general lighting.

Square footage matters. When you choose recessed lighting for ambient illumination, approximately one light for every 4 square feet of ceiling is a good rule of thumb.

Everybody is different. A variety of circumstances such as failing vision or architectural obstructions may mean your space requires more lumens to be adequately lit.

Live in your space. How do you live? Notice that corner where there is no natural light that might need an additional recessed light. Picture the family room furniture setting and place the lights accordingly. They do not have to fit a typical square pattern of 4. Be very thoughtful in your day to day living situation, as well as moods within your daily living. How would you want the lighting for a daytime family brunch as opposed to a Saturday night dinner party? Ambient light is good enough to illuminate a space and perform basic activities, but it might not be bright enough or focused enough for more specialized tasks, which brings us to…


Task Lighting
More specialized than ambient lighting, the second layer is task lighting and is applicable in any room of the home. Typically you might think of task lighting as kitchen under cabinet lighting (which is terrific if you actually want to see what you're doing with that sharp knife) or in home offices as a bright desk lamp for working, reading and writing with ease. However, task lighting is also in the bathroom as the all-important vanity light. And in the bedroom, a bedside reading lamp counts in this category (remember your partner can't sleep with your overhead bedroom chandelier blasting so you can see your book.) Another option is to add specific recessed task lights above the bed for reading purposes). I also suggest two light switches for the recessed cans so both people can turn off both lights. We typically don't do everything at the same time so again, think through how you live.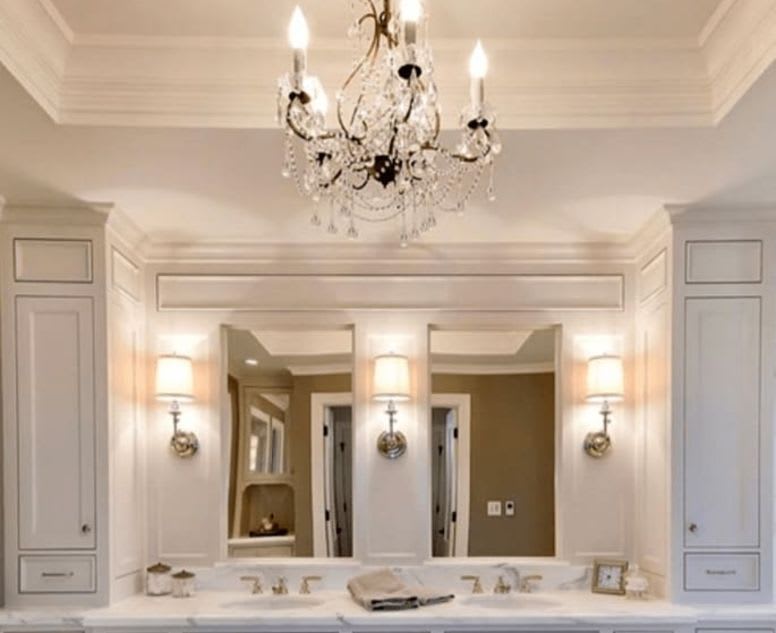 Lighting can be layered in the bath with task lighting—typically with vanity lights and an ambient, overhead fixture. Two of my favorite bath room lighting manufactures are Hudson Valley and Hinkley Lighting.


Things to keep in mind about task lighting:
Focus on brightness. Task lighting is not intended to illuminate an entire room, but it still requires more lumens than ambient lighting to focus light on your workspace. Measure the square footage of your task area and multiply it by 50 to find your minimum lumen level for adequate task lighting.
Adjustability is key. Choose fixtures with built-in dimming capability (or hook it up to a dimmer switch) and look for movable arms, shades and portability to customize your work areas to your liking.
Get the Kelvins right. For detailed projects and comfort when reading, color temperature can be an important factor. The cool, bright daylight tones of 4000 Kelvin are great for sewing and painting model airplanes, but your eyes will love you more with a warm 2700 – 3000 Kelvin reading lamp that mimics the output of traditional incandescent bulbs. While task lighting has a work-oriented purpose, the most mood and personality can be achieved with…


Accent Lighting
This is the fun part. This is all about presentation. Accent lights don't have to be functional (though they can be) and come in a huge variety of options. Up lighting a shelf or cabinet lends collectibles and china a museum-like quality, while a sparkling chandelier over a soaking tub or in the boudoir adds drama without needing to give off much light. Some accent lights highlight architectural features like steps or tray ceilings, while others are standout showpieces that function as a design centerpiece.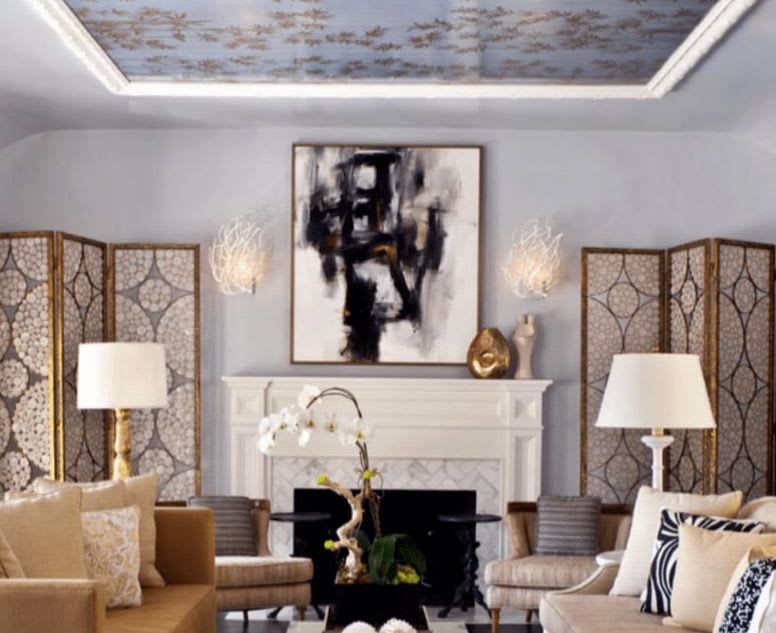 This is a great example of layers of light. Statement piece chandelier, cove lighting around the ceiling detail, sconces for interest and table lamps for function. Any combination of these lights can create a unique setting.


Things to keep in mind about accent lighting:
Form can trump function. Decorative pendants, floor and table lamps that give off poor light for reading or general activity can still enhance your overall lightscape by subtly brightening dark corners. And the uber- trendy Edison bulbs are gorgeous in many fixtures, even if they lack much light output.

Highlight what you love. Picture lights and overhead spotlights can accent artwork and architecture; there's no need to think of accent lighting as an end in itself.

Go for it! Accent lighting is a free-for-all in terms of how to apply it. There's no wrong way to decorate your space to your taste, so be bold and experiment. Remember you can always replace it if it doesn't turn out perfect.
Combining all three layers of lighting in any room leaves you with the most options for customization. Moody accent lighting can be left on in the living room (such as a wash of color on a feature wall) while the general lighting is dimmed or turned off for watching TV—just don't forget your task light. In fact, adding a dimmer switch to any or all layers can expand your opportunities to make any room feel like home. Additionally, be sure to install each type of lighting on its own switch, so that you can control each layer individually.
Finally, my favorite lights to select are kitchen/island pendants. This is the heart of the home and deserves great thought. When selecting pendants for the kitchen island, bigger is typically better. It is hard to picture an 8"X11" light in its intended environment for most people so make a template. When trying to decide what size light fits best, whether it is a grand dining room chandelier or mini kitchen pendants, tape pieces of cardboard or paper together that match the size you have selected. Hold it up in the location and step back to see how it lives in the location. More often than not, the light is too small. Balance is particularly important with regard to style, color, shape and size to bring the room over the finish line. Getting pendants right is not easy. Below are examples of kitchen pendants that I think hit a home run. Remember, this is a piece of jewelry and typically is a statement piece. Go for it!
Love the color and shape of the pendant to match the square wood island. The pendants also match the hardware and balances the color throughout the kitchen. These pendants, like the island, are more transitional while the back cabinets are more traditional: Achieving a modern farmhouse look.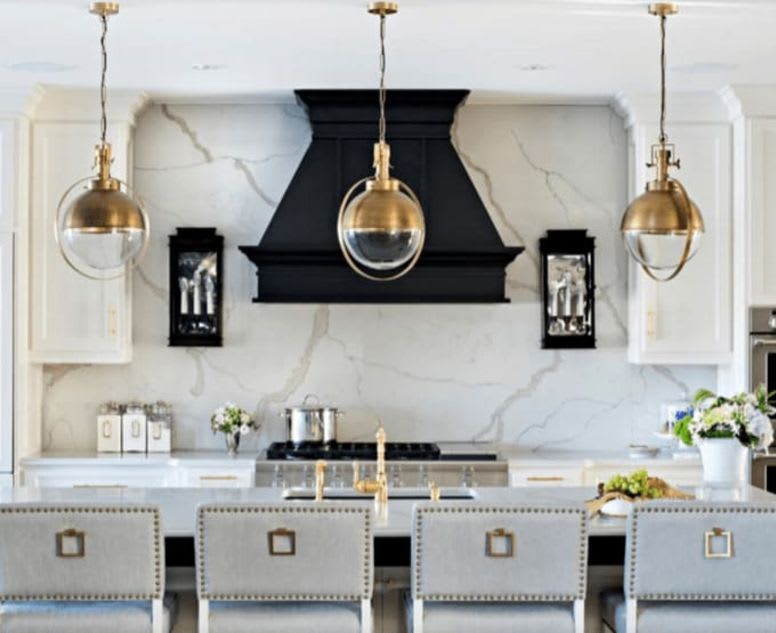 The brass lights are balanced out by the bar stool tacking as well as in the veins in the Calcutta marble, while the sconces bring the hood and range top/oven and island blacks together.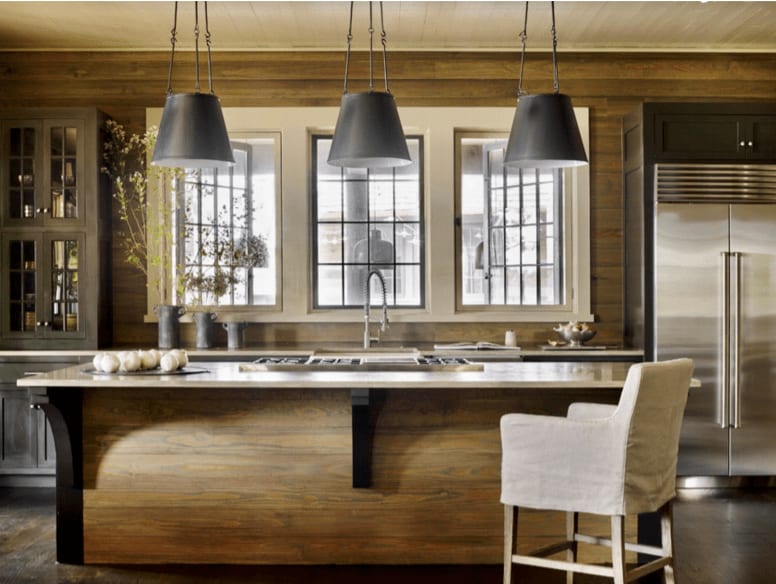 These industrial pewter pendants fit perfectly with the rough wood an iron island. Also, the weight and size of the fixtures matches the weight of the island. Finally, the pendant color is spot on with the china cabinet.