Cleaning

Decluttering

Repairs

Painting

Lighting

Organizing

Furniture selection

Curb Appeal
So let's assume we have addressed the items above and we are ready to go. The next item of importance is staging. You have the backdrop ready and now we need to make the home sing! What is most important at this point is creating an environment that 99% of the public can relate to or imagine themselves living in. Staging in neutral color palettes not only is pleasing, but allows the buyer to see themselves in the home. If there is a large odd color, overstuffed couch that is too big for the room, it takes away from the space and might dissuade the buyer based on color or style. Most people cannot envision a space beyond what it looks like at the moment. If it is empty, too trendy, uncomfortable or wanting attention, this will be conveyed during the sale and could prevent a buyer from relating to the home. What good staging can do is set the stage, enhance the home and help it sell quicker.
Below are examples of a property I recently listed in Los Gatos and is in contract to close this month. Staging was key in creating a warm, inviting and livable environment. Some pieces were repurposed so not everything has to come from the staging company.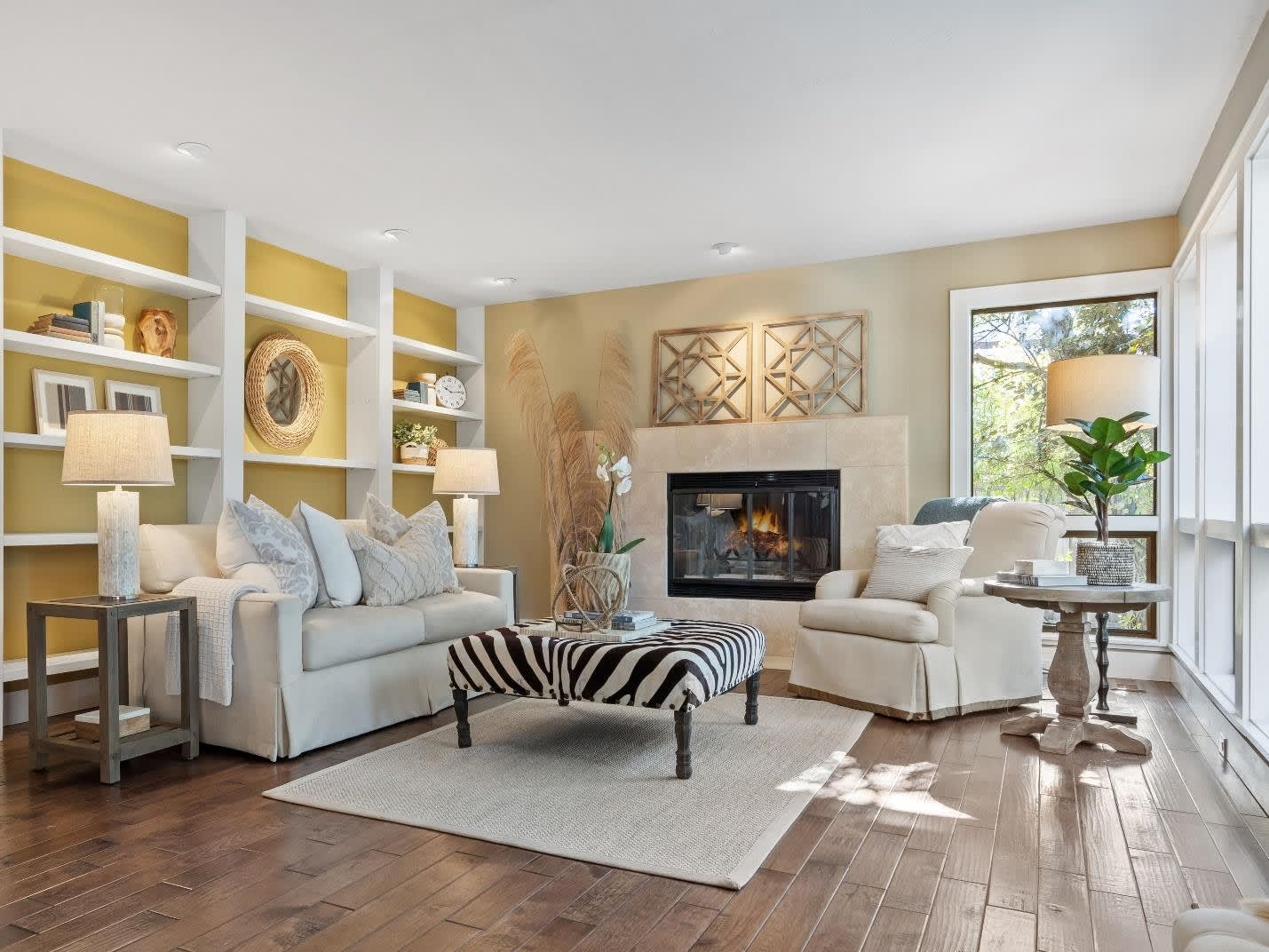 Original paint was perfect for staging. Shelves have been decluttered and arranged in neutral colors. Couch and chair were original pieces and multi-textured pillows were arranged to add flair. Finally, the animal skin ottoman with live flowers topped it off to create a chic, comfortable, livable living room.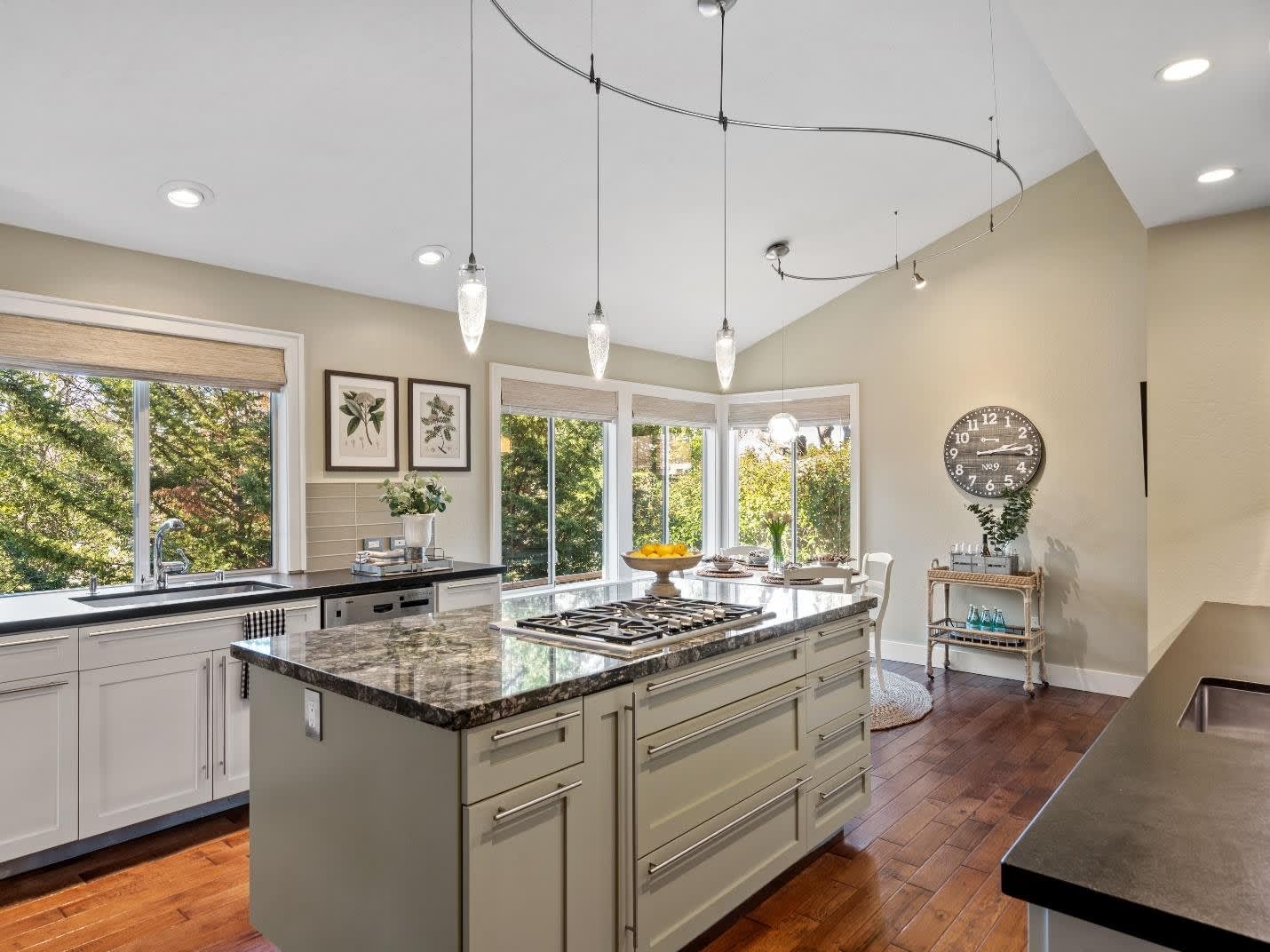 The kitchen was remodeled and the colors were so perfect for today's staging! Just a few neutral touches with the cottage style table, clock, floral prints and natural flowers (again) make this kitchen look warm and almost brand new!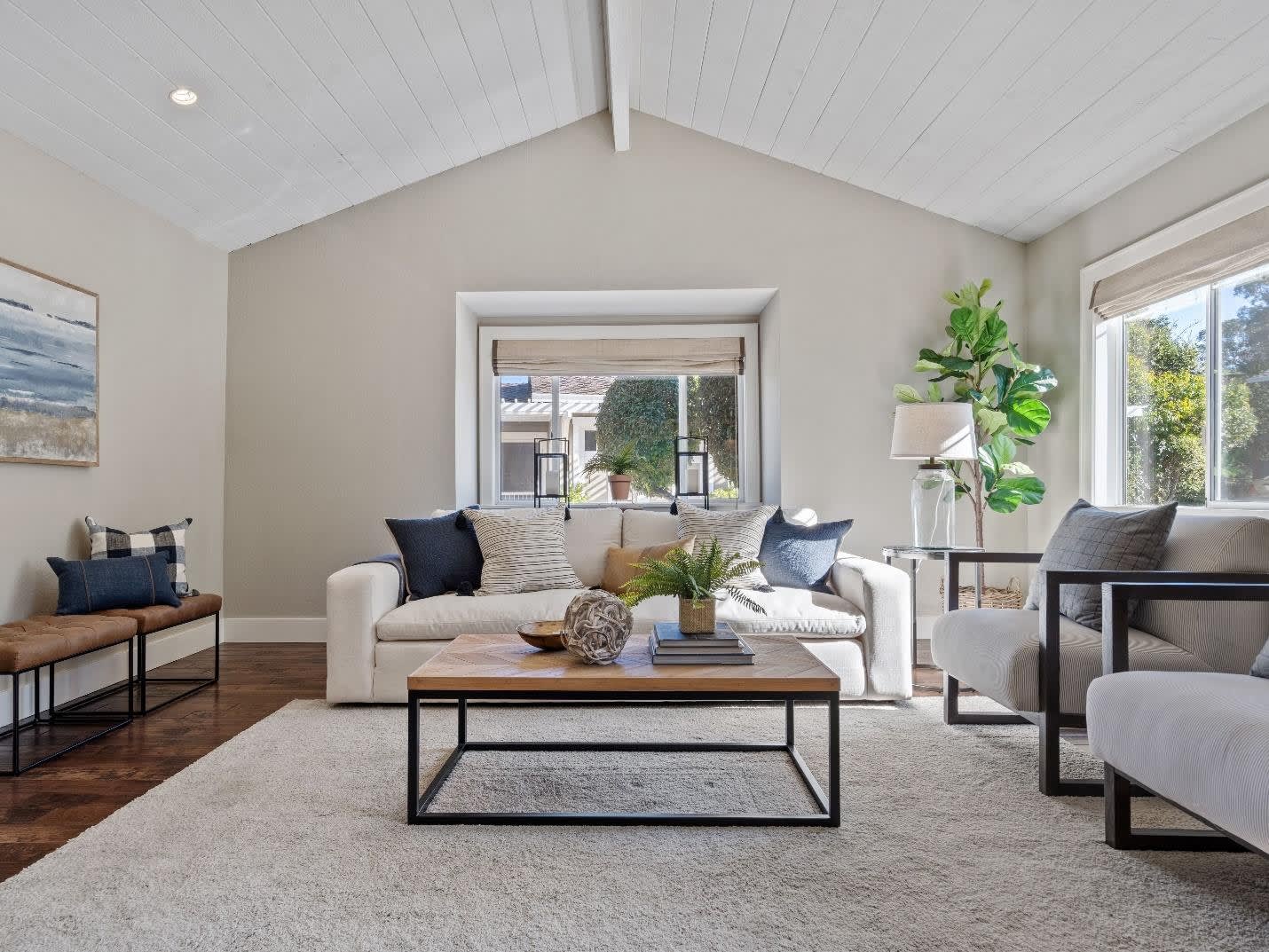 This family room is picture perfect! Neutral blues and creams brighten this room and work perfectly with the washboard vaulted ceiling.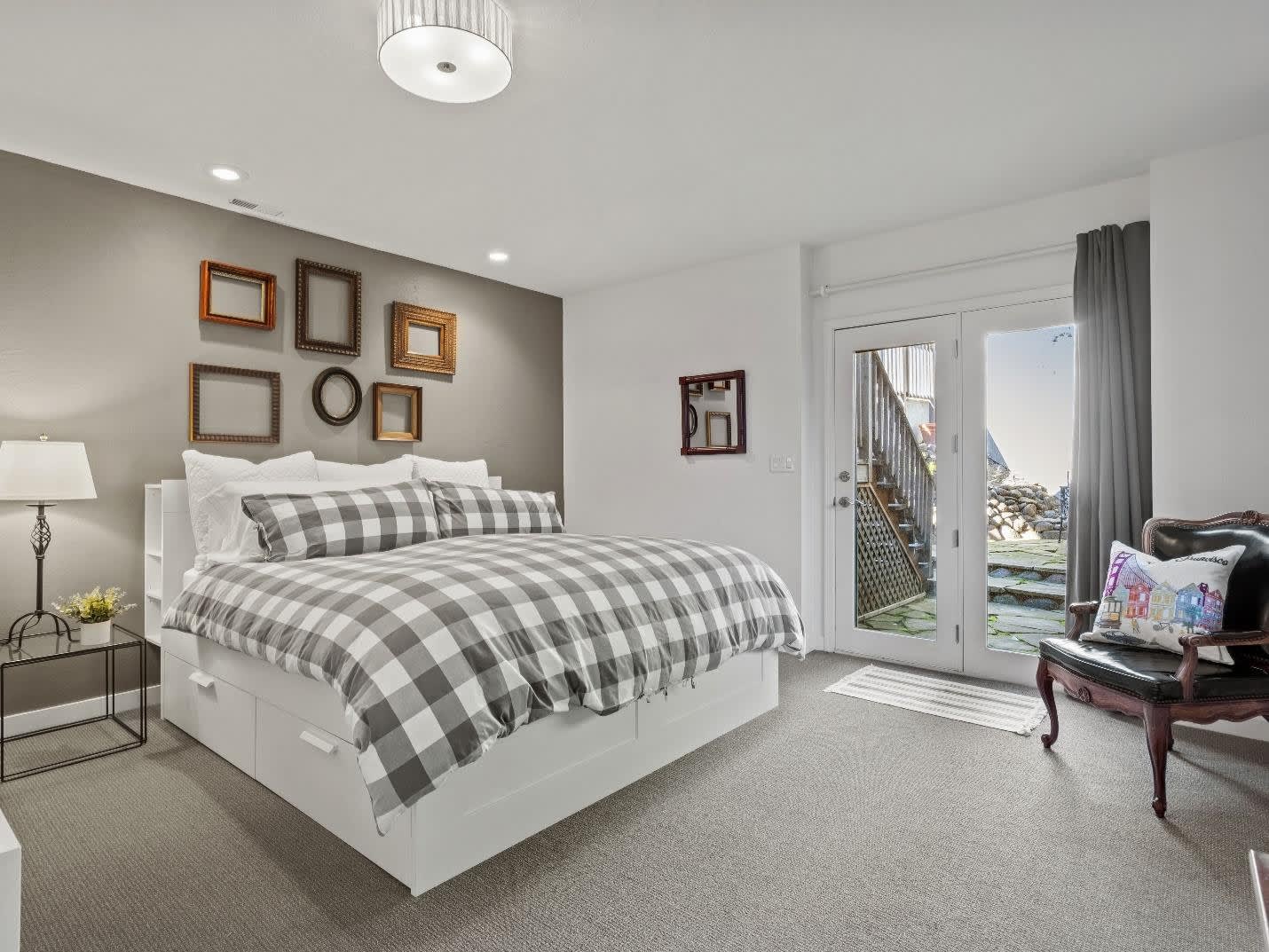 Not much was added to this adorable guest cottage bedroom. A few pieces were removed and crisp white sheets, lighter accessories and black chair from another room were added as slight modifications.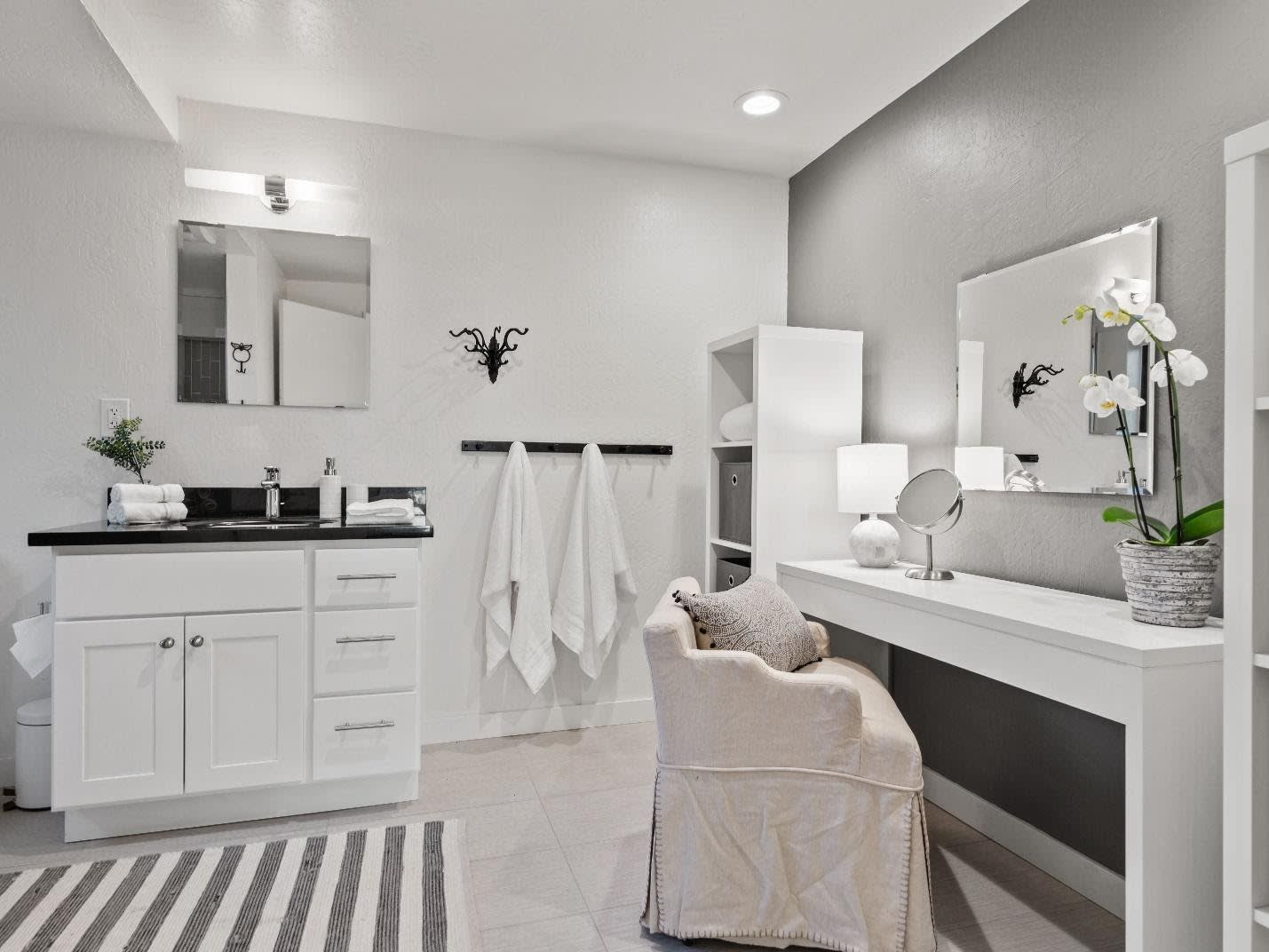 Finally, my favorite room. The guest cottage bath looks like a picture out of Houzz! The black chair was moved into the bedroom and all white accessories and adorable khaki make-up chair create a functional, yet cozy & bright bathroom.