Hardware
I once had kitchen cabinet hardware that I called my David Yurman handles. They were absolutely beautiful and looked like Yurman jewelry. They made the kitchen. At $65 a piece it was a big-ticket item for one room. However, I loved those pulls and I loved that kitchen. The next house was so over budget that I had to reign in on the hardware and selected lovely, but cost-effective hardware. Hardware can be a statement piece, purely functional or both. My only caution is that selecting trendy colors or styles will ultimately date the room. Brushed gold or brass is very in right now and it will be part of my next kitchen. However, I will select a style that a more versatile brushed nickel or polished nickel can replace when the brushed brass goes out of style. Additionally, if you need a room uplift or update simply changing your hardware can really transform the look and feel of a room. So, if a slight remodel is all you can or want to do, look at hardware as an easy fix. When staging homes for resale, my first enhancement is usually hardware. Polished brass hardware in a bathroom from the 80's can look new and fresh with polished nickel or chrome hardware. Add a fresh coat of paint and the presentation of the home just skyrocketed!

What Is Cabinet Hardware?
Cabinet hardware refers to the knobs and pulls attached to both your cabinets and drawers. Hardware also includes the hinges that allow the cabinet door to swing open. The primary function of cabinet hardware is to allow you to open your cabinet doors and drawers. The two common types of hardware are knobs and pulls. Knobs are small and typically used on cabinet doors; pulls are long and typically used on drawers. However, you can use knobs on drawers and pulls on cabinets … there is no rule against this.
How to Choose Hardware Style
While cabinet hardware's primary purpose is function, it also helps define your home's design style. Your hardware style is dependent on the style of your cabinet doors as well as the overall design style of your home. Both pulls and knobs come in just about every style you can imagine. If your home is traditional, choose ornate knobs and pulls. If your home is contemporary, choose simple hardware with long simple lines. If your home is transitional, choose simple hardware like the photo above. There are also rustic choices if your home is rustic the options are endless.
Some Things to Consider in Terms of Function
Cabinet knobs are typically round but do come in a wide variety of shapes. Choose knobs and pulls that are comfortable on your hands because you will use them often; rounded surfaces are much less likely to scratch you than a sharp square edge. Something I never thought of till I had a square knob was that knobs can loosen and rotate so if you are fussy, buy round knobs because you can't tell when they rotate.
Cabinet Hardware Finishes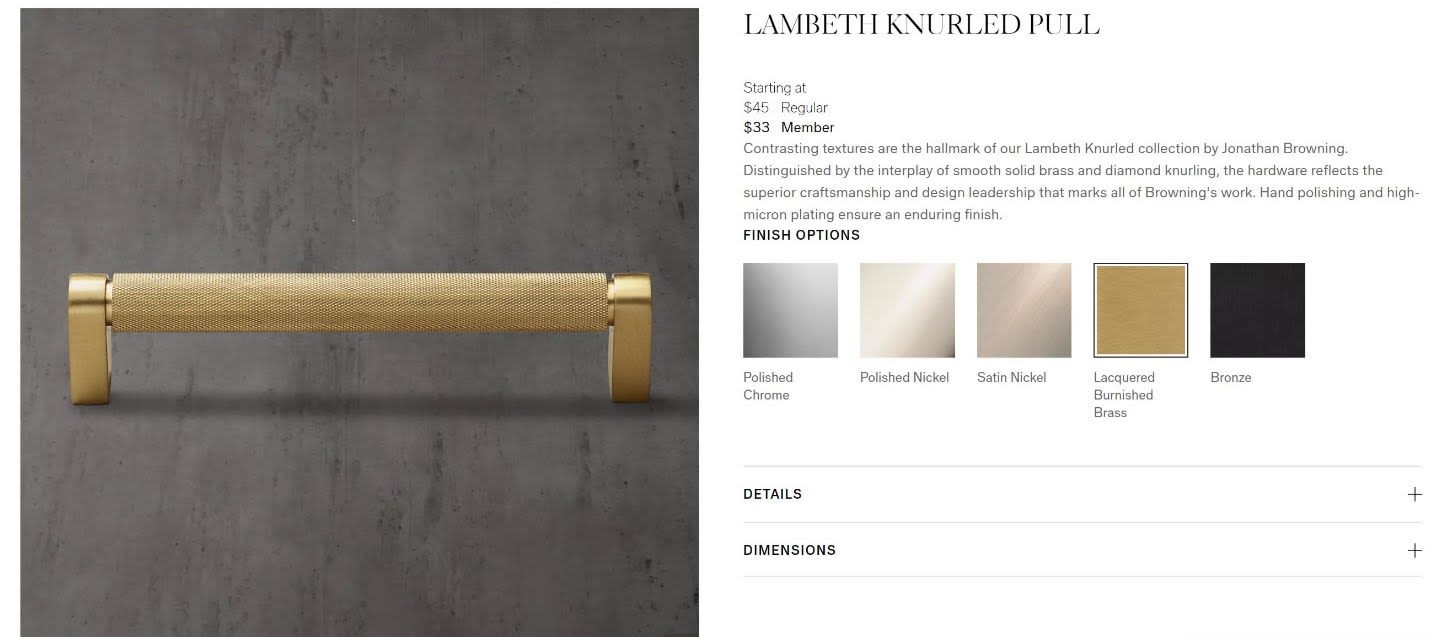 Restoration Hardware
Keep in mind that finishes can vary widely from manufacturer to manufacturer. Oil Rubbed Bronze can range from deep black to a yellow, rubbed bronze so make sure you get samples if you are using several manufacturers. Also, polish nickel is more yellow and looks great with Calcutta Marble, while chrome has a blue undertone and looks best with Carrera Marble.
I personally prefer to keep all hardware finishes matching in the home. Where you can deviate and mix metals is with your decor and accents like lighting, faucets and accessories. However, as long as you keep the finishes all cohesive in your kitchen and any surrounding rooms, you'll be fine. I still believe even if you have a thematic bath or laundry, you should keep the finishes the same. For instance, if you have a laundry or mud room that is more rustic and you wanted wrought iron knobs, it doesn't make sense to introduce black hardware if the other areas of the home are not rustic. Conversely, if the entire house is rustic, you should go wrought iron or brushed nickel everywhere to create consistency.
How to Choose Size
Your home's overall design style plays a role in the size of the hardware you should choose. A long pull (~ 9"+) provides a contemporary look, whereas a mid-length pull (~ 5"-7") is more transitional or traditional. Hardware size as a design element is more specific to pulls … knob size doesn't really affect the style. It's the style of the knob (as opposed to the size) that helps define your style. You can mix up your pull sizes or you can use the same size throughout your kitchen (or bathroom). I have the same size pull (7.5") on ALL of my kitchen drawers … regardless of drawer size.
Can You Mix Cabinet Hardware?
YES and NO! You can certainly mix pulls and knobs, but I would recommend that you do not mix hardware styles or finishes (colors) within one room. The exception here is if you have wrought iron or bronze handles on the perimeter lighter cabinets and you have a dark cabinet on your island. I would then use the same hardware, but use a lighter nickel color to accent the dark cabinet. Choose one pull style (and size) and one knob style (and size). The knobs and pulls you choose should complement each other (i.e. I wouldn't mix a contemporary bar pull with a traditional knob).
Hardware Websites: