Thinking it might be time to start shopping for a home or selling your home? Recent data published from Altos Research believes the market with remain strong through October. In addition, prices are up 5.3% over last June. All of this is hard to believe with what we have been through in the last 3 months. With that said, both buying and selling a home is quite different in these unprecedented times. I recently closed on a home in Los Gatos in 5 days, $150,000 over list price and scheduled 40 buyers with agent though in 2 days following all current COVID protocols. It took swift thinking, great technology and a strong, safe plan.
The rules about how showings and closings can take place and what agents can do will vary depending on local public health regulations, real estate association guidelines and individual comfort levels. In Santa Clara County and beyond, appointment are required to view a home, all entrants must sign waivers before looking at a home and be comfortable with masks, sanitizing wipes and booties. These are the new realities of home buying, and agents say many of these protocols are likely to stick around. Here are some ways the buying and selling of homes has changed.
The New Rules of Home Buying
Buyers should expect hand sanitizer and masks to be part of any home buying experience. But other aspects of house hunting and closing the deal may come as a surprise.
Limits to the number of people in the home at one time. Agents or family members might need to wait while other family members view first.

Appointment only viewing. No open house on the weekend has lent itself to strict appointment times. From a selling prospective, this actually is helpful as it typically means "Real Buyers" are making the effort with the extra work to see a home.

Signed PEAD forms which benefit both home owners and buyers. This form is very important for tracking who has been in the home as well, in case there is an issue.
"We have gotten used to signing documents about his health before going on a home tour. "We have to sign a disclosure that we don't have any symptoms and we don't have any connection to anyone with symptoms," he said. "Both sides have to sign these documents before we go in the house."
This is a scheduling form I developed through an app to arrange for buyers to view my most recent listing. It was quick, easy and efficient.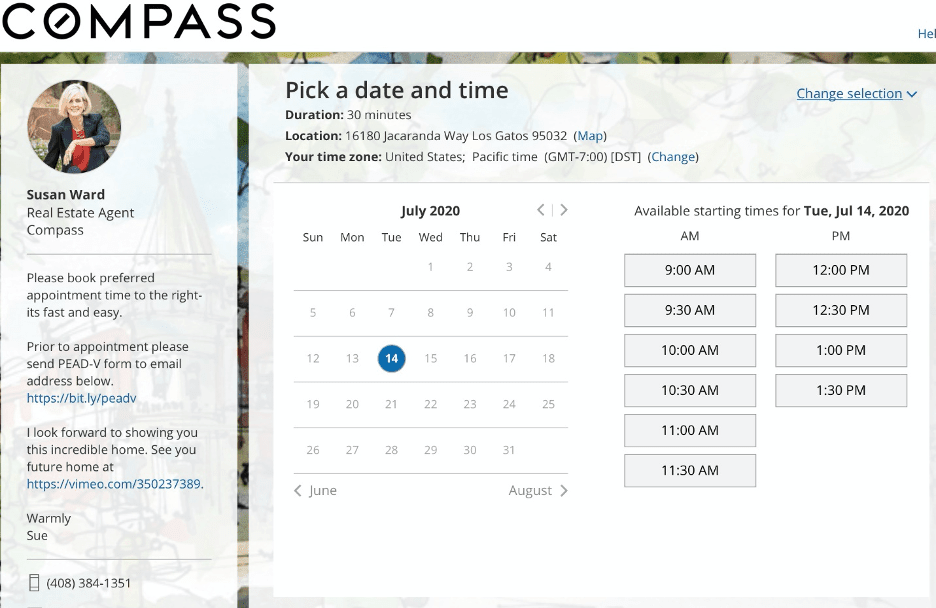 This appointment scheduler allowed me to book appointments every half hour for 3 days straight and receive the appropriate PEAD form from every agent prior to the appointment.
Rethinking the Sales Pitch
Great photography and staging has always been my mantra as it is the first impression a buyer has of the home. Now, 3-D renderings, Zoom walk through's and videos are more important than ever. If you do not feel comfortable viewing the house in person, all of the above can help a buyer truly see every aspect of the home and ask questions along the way. Additionally, you can revisit areas to understand flow and just rethink an entire house after you have seen it the first time through
"Today's first showing is happening online, not at the house," quoted an agent in San Francisco. "People are only looking in person at houses that really inspire."
The pandemic has also altered the way we markets properties. In the past you would never list a home on a holiday weekend or midweek. Typically you would list on a Friday to catch the weekend traffic before the broker tour the follow week. This gave your home momentum. Now, any day is as good as the next since you have to get people though by appointment which is very time consuming. Also most people are working from home and can see properties more readily.
Open Houses Are Not So Open
Open houses, the mainstay of agents looking to show a property to as many people as possible, pose problems. While they run afoul of public health rules in some regions, they are allowed in others.
Open houses are less common. Instead, more visuals of the home are now offered online.
But for many other agents, particularly those in cities hard-hit by coronavirus, like New York, Washington DC or San Francisco, open houses are generally not being held.
Probably what I miss most of all is seeing other agents and having those quick conversations about the market and upcoming listings. That is my "office" community. I also really miss that wonderful buyer you meet at an open house and you strike up a great conversation for an extended period of time, forming a bond over kids, local activities, volunteer work or gardening.
It's still a Seller's market right now. Inventory is low and demand is high. Since we were shut down in the spring, the spring market just shifted to the summer market. As always, do your homework, make sure you practice safe viewing and Keep Calm and Buy a Home!