Open shelving is very in for the kitchen, bath and other areas like the office. You may be wondering whether open shelves are worth the hype. Questioning whether they are just a fad, are practical enough, or too difficult to style correctly. With the right styling they can transform your interior. In this styling guide, we answer the question: 'what to put on open kitchen shelves'.
Mix and Match
To get the right balance of style and substance be sure to mix both practical and decorative items. When considering what to put on open shelves in a kitchen, for example, mix up useful items such as serving bowls, mugs and recipe books with decorative items such as planters, artwork, and vases.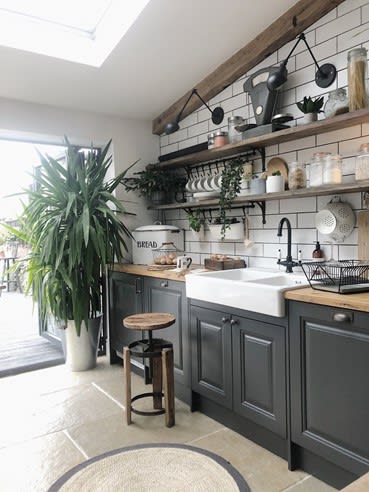 Image credit - jade.doutch (instagram)
Blend Textures And Materials
Items on open shelves will need to be aesthetically pleasing, it's not the place for plastic appliances or mismatched serving dishes. A look we adore is to take two contrasting tones and textures such as stoneware and rustic wooden serveware and combine them to create a natural look.
Wine Glasses
We all need our Friday night vino fix so ensure your glasses are always on hand. Many open shelves such as this, the Melli hanging shelf, come with in-built wine glass and bottle storage. Ensure you pair with oversized, ultra-thin glasses to capture an opulent look.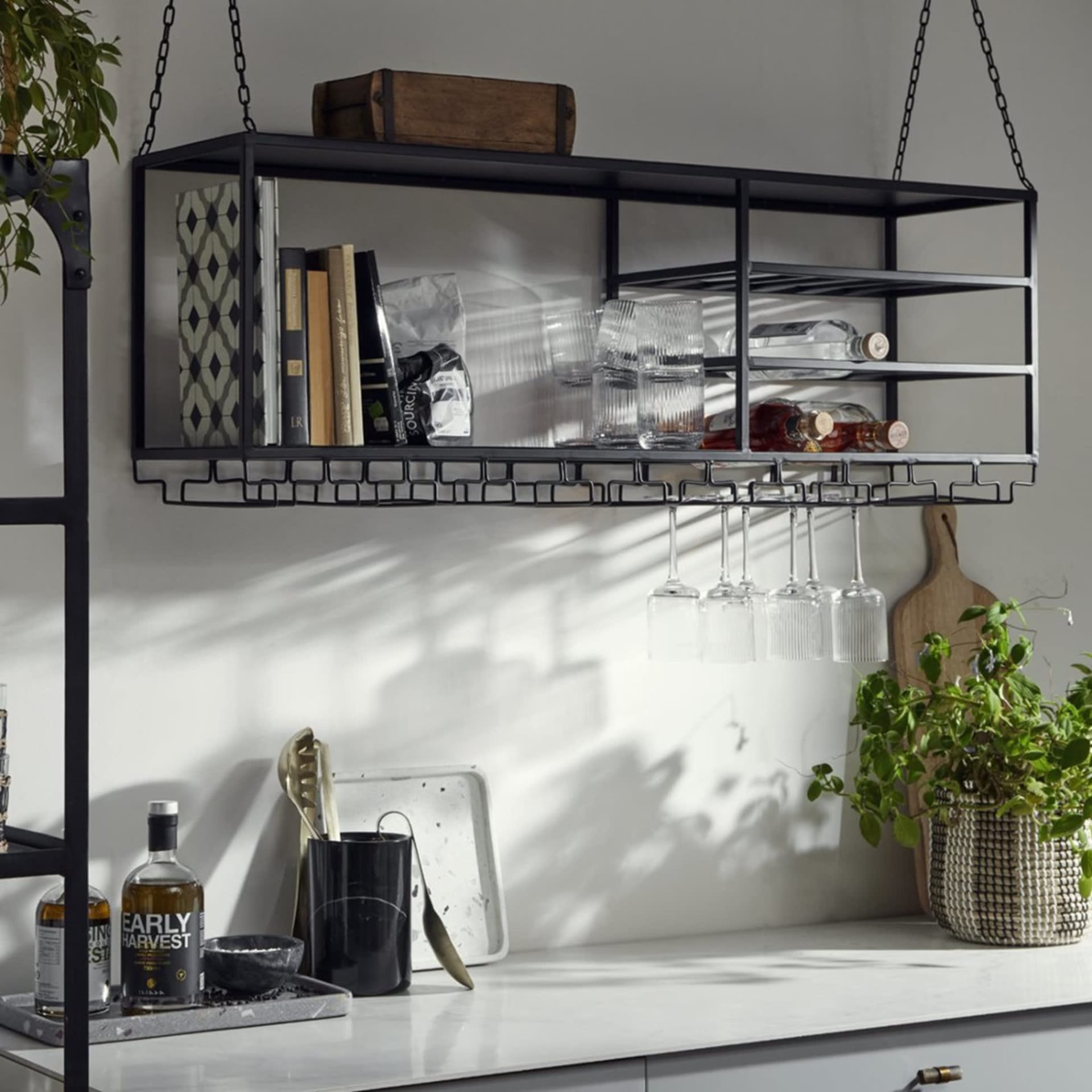 Melli Hanging Shelves
Serveware
Good shelving solutions are as much about practicality as they are good looks so ensure your kitchen essentials are never more than an arm's length away. Capturing the look is going to come down to the beauty of your tableware so steer clear of cheap white porcelain and plastic paraphernalia and opt for wonky, pitted and hand-finished articles that you can be proud to show off. Check out this beautiful collection of tableware, perfect for open styling.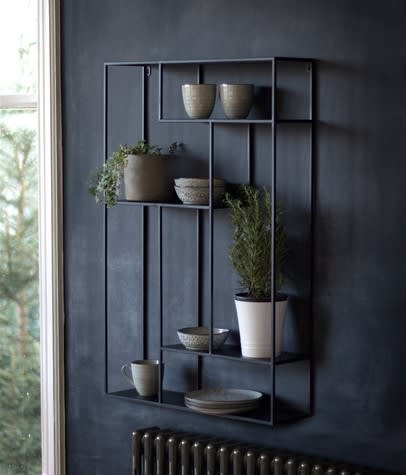 MoMa Open Wall Shelf
Trailing Plants
Foliage and plants are, in our opinion, the single best way to finish off a room's décor. And what better way to introduce them to your space than to style them on your beautiful open face shelf.
With open shelving, we would suggest opting for trailing plants. Style alongside tableware and books and allow them to droop down the side of the unit creating a natural look. Don't be afraid to style in numbers also. You can't have too many plants and when styled in multiples, you'll be well on the way to creating your serene and idyllic urban jungle.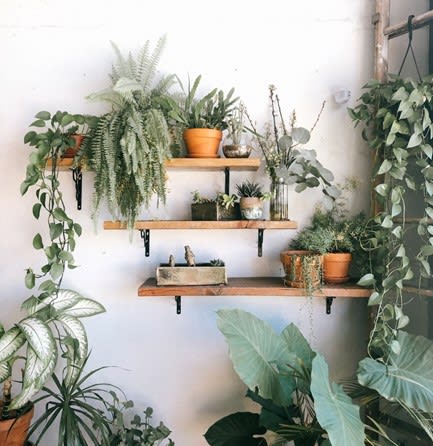 Cookbooks
Not only are cookbooks a kitchen essential that need to be kept on hand, but they look great when stored on open shelving also. Style alongside glassware, olive oil bottles and foliage to help your open face shelf blend in with its surroundings.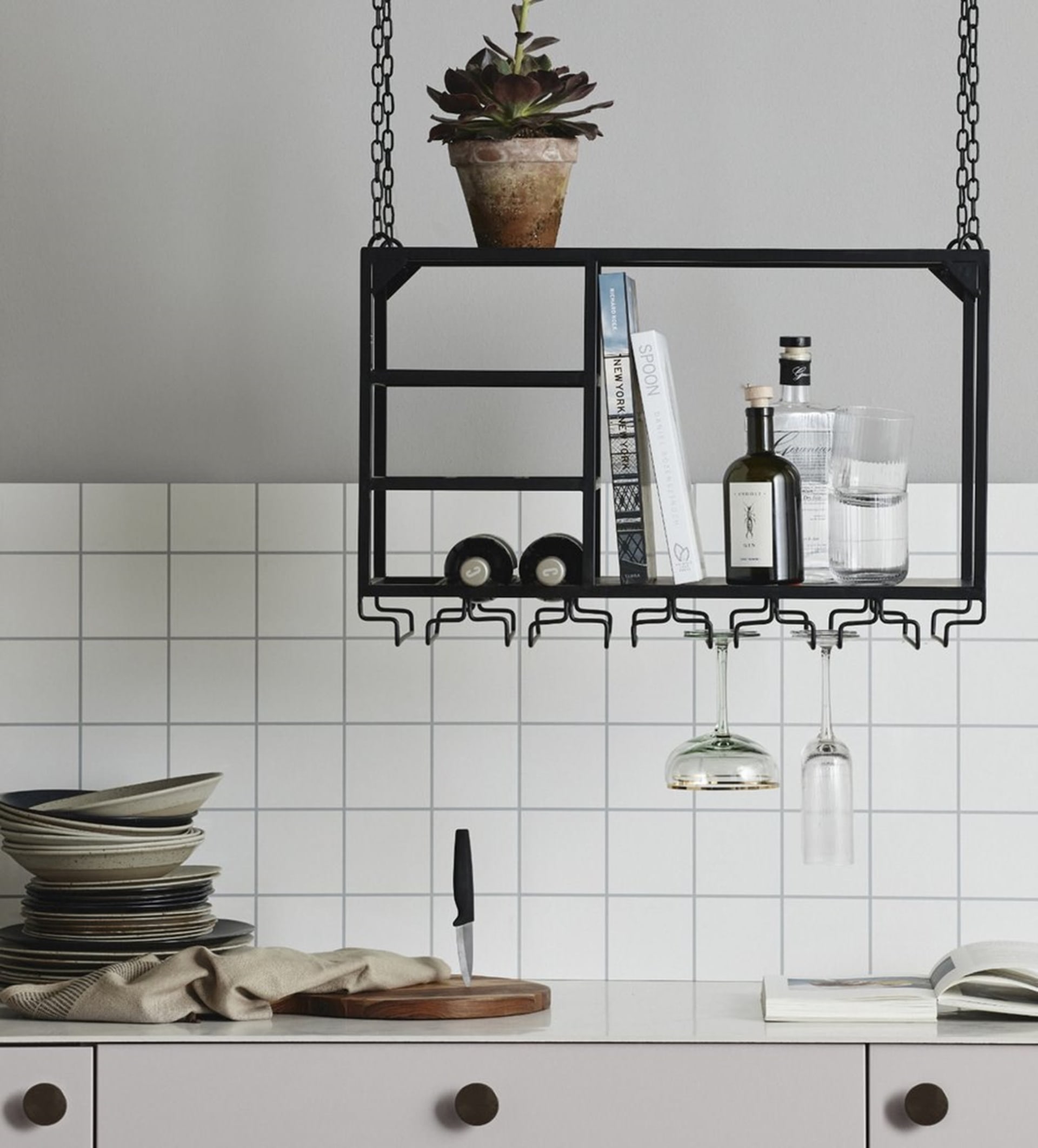 Melli Ceiling Hung Shelf
Vintage Ornaments
Vintage ornaments and trinkets are not only a great way to add character to a lonely wall, but they can be used to house smaller bits and pieces such as keys and loose change. Interesting finds such as vases, glass jars and urns work well here and don't overlook the handiness of a rustic storage box to hide unsightly items.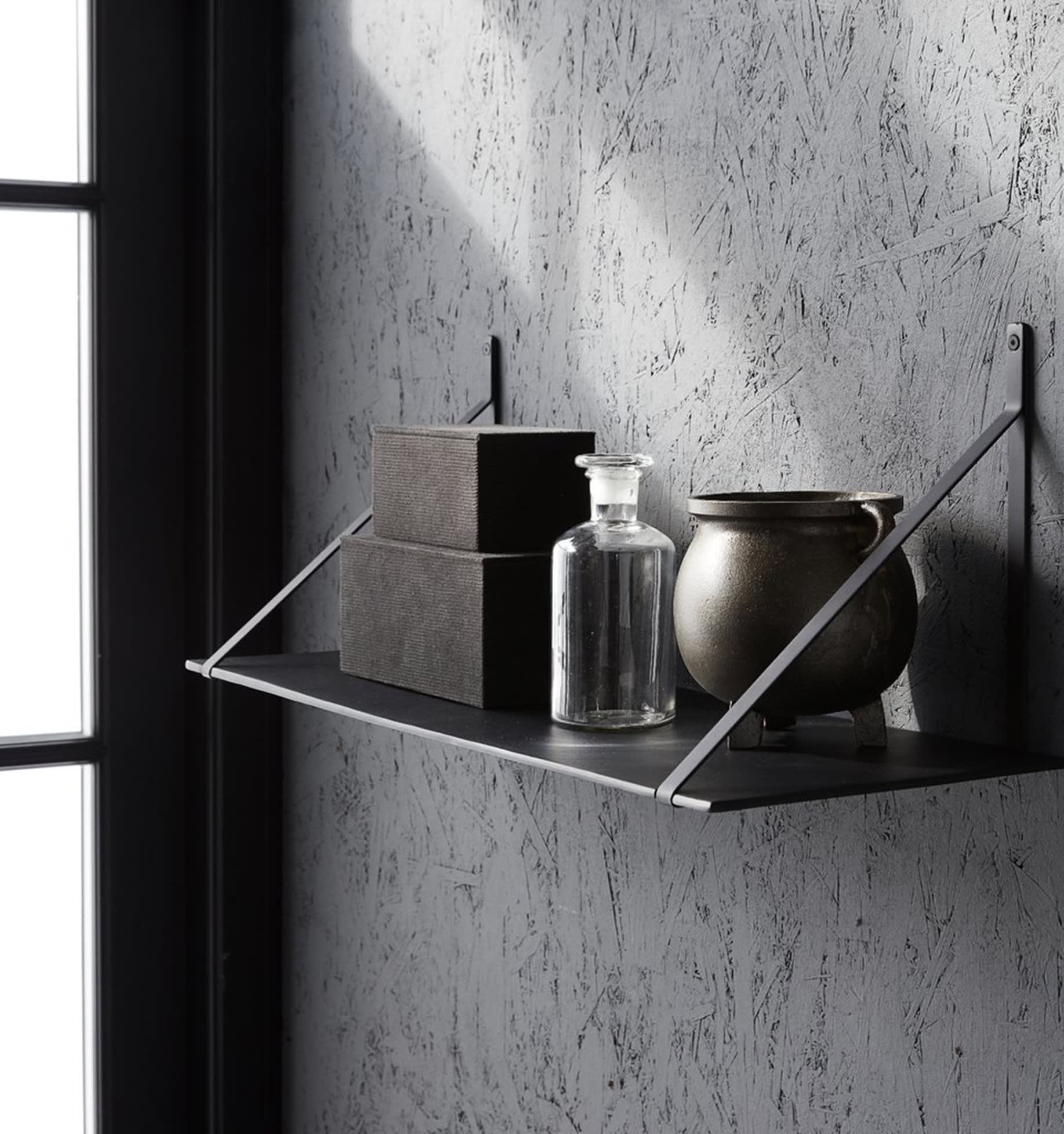 Narla Wall Shelf
Are Open Shelves Practical?
Open shelves in kitchens are a great practical solution if you like to keep your worktops clear. When installed at arm's reach they offer good storage for everyday items that are used regularly; think tea and coffee canisters, mugs and glassware. You'll be thankful for the ease of accessibility and extra counter space. When higher up they are great for those things you barely use – we're looking at your pasta machine.
Are Open Shelves Good for Smaller Kitchens?
Open shelves are a great space saver compared to bulky cupboards and the range of sizes and shapes available means they are a great solution for those with limited or awkward spaces. They are easy to install into alcoves, nooks and crannies and are often cheaper than commissioning custom-made cupboards.
Replacing traditional wall units with open shelving will also make your space feel much larger and airier and so are great for smaller rooms or those with limited space.
What Types of Open Shelves Are There?
There are many different types of open shelf though, from the standard wooden plank with bracket, to industrial wire mesh, floating boxes and multi-functioning kitchen storage solutions. Choosing the correct shelf will depend on what you intend to house on them so you will need to factor in depth, load-bearing capacity and features.
Choosing the Right Type of Open Shelf
Do you go for a hanging storage unit or wall mounted open shelf? Depending on the type of space you have you could really expand your storage options by thinking outside the box. Put space above kitchen islands to good use with a suspended shelf or slot a slimline shelf into alcoves or under existing features to maximize your storage potential.
How to Style Kitchen Shelves – Our Final Thoughts
Here is a roundup of our top styling tips to make your open shelves look incredible
1- Group similar items together, odd numbers tend to look more appealing.
2- Layer up different sized items such as chopping boards to add variety.
3- Keep to a similar color palette or two contrasting palettes at a maximum.
4- Use matching jars and other small storage pots and decant dry goods such as pasta, sugar etc.
5- Add plants, especially trailing ones.
6- Mix up functional and decorative items
7- Keep them tidy!
Courtesy Vaunt Design